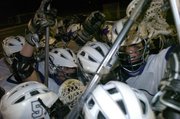 The Chantilly boys lacrosse team won their first-ever Concorde District title on Friday night, beating the Oakton Cougars, 9-7. Entering the tournament the Chargers averaged almost a 10 goal advantage, scoring an average of 13 while only surrendering three. Chantilly was tested in tournament play, however, as they beat Westfield 6-4 in the semifinals and Oakton by a two-goal margin.
"I think that's the best thing that could've happened to us so far this year, we needed to have a team challenge us to keep everybody on their toes, so we keep playing hard, we didn't lose, we kept our composure, it was a good wake up call for us," said Chantilly senior Kevin O'Neill, who scored a game-high four goals in the championship.
Chantilly came out hard and physical in the title game, quickly taking control and had a 5-0 lead at the end of the first quarter which included a twisting shot from the stick of senior Jake Nolan, with just 1.7 seconds remaining in the opening frame. The Chargers rolled into halftime up 5-1 as Oakton finally managed to sneak a shot past junior goalkeeper Derek Kegerreis with just 1:22 remaining in the first half.
"They killed us early on transition but I think their goalie was the difference in this game, in the beginning if he didn't make those early saves this game would have been totally different," said Oakton head coach Tony Gray.
The Chargers came out in the second half continuing to dominate a physical game expanding their lead to six goals, 9-3, at the end of the third quarter, matching the score they won on in their trip to Oakton on April 24. The fourth quarter, however, belonged to the Cougars, as they shut out the Chargers and mounted a comeback.
Oakton kicked off the quarter with a rifle shot goal from senior Rob Koster barely a minute into the final frame and found the net three more times before time expired.
"Our motto all season has been head, heart and hustle and it was all heart in that last quarter. I'm not sure when it kicked in but it was an adrenaline rush," said Gray.
Despite the Concorde championship, undefeated record and high number of lopsided wins this season, the recent close calls has Chantilly focused and not looking too far in front of them as they prepared to open up the Northern Region tournament against Washington & Lee.
"Tuesday – [it's] one game at a time, that's all we're looking for. We can enjoy tonight but Tuesday we gotta go get 'em, from here it's you lose you go home," said Chantilly head coach Kevin Broderick.