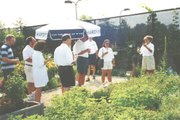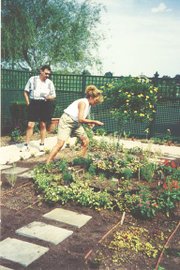 Everything you eat in a day effects the taste of everything else. This is the fact that Mary Watson, Lansdowne Resort's sommelier, opened with at the beginning of one of her wine and herb tasting sessions at the resort. After the first tastes of the same glass of wine with two different herbs proceeding them it became impossible to disagree as each herb brought out an entirely different flavor in the exact same glass of wine.
"It only makes sense to pair herbs and wine," said Watson while walking around her garden located next to the tennis courts on the Lansdowne Resort property. "Everything you do to your food has an effect on it. What I do is point that out and show the difference one ingredient can make."
The way Watson does this is by offering what she believes to be the only wine and herb pairing course in the country.
THE COURSE, which is actually more like a weekend sleepover camp at Lansdowne for adults, allows wine drinkers to taste a variety of wines over a weekend of dining and learn how different flavorings impact the wines. Watson selects all the wine pairings and grows all the herbs organically in her garden so that tasting can be done outside with freshly picked herbs.
"I literally bring people out and taste the herbs. You can eat right out of the ground like this," said Watson bending down and picking a leaf off of a basil plant, one of 15 types in the garden, and popping it in her mouth.
Watson says that the weekend camps, which will begin again in September and also involve the resort's head chef Jason Lage, never have a true agenda and play out depending on people's tastes and likes. They usually include an aroma seminar on Friday night along with wine tasting, herb and wine tasting, an interactive cooking class, a special eight- to 10-course chef's table dinner and concludes on Sunday with brunch at On The Potomac, the resort's restaurant.
"You would be surprised at how many people can't identify a food by smell," said Watson of the aroma part of the camp, "but it is an important part of tasting."
The main goal of the camp is to teach people to be able to taste what combinations work best for them. Learning what tastes go together is one of the most important parts of dining, said Watson.
"You want the combination of the two of these things to be better than they are apart," she explained. "When you find the perfect match it is bordering on nirvana."
WATSON HAS been the Lansdowne Resort's sommelier for over a decade, garnering many awards and recognition for both herself and the resort. While the camp is a large part of her job, it is far from all she does. Aside from also offering single-day events involving wine and herb tastings, Watson is also the resort's sommelier in a more traditional sense, planning the wine menu and offering advice to diners. She also teaches the wait staff about the different wines so that they are educated on what they are offering. Some of what she grows in her garden is even used to cook with in the resort's kitchens.
"She's always around the tables. At night she'll be opening the wine and teaching about it. She is very hands on," said Kristy Chong a bartender at Lansdowne who has been working with Watson for a year.
Watson is also the head sommelier for Lansdowne Resort's parent company, Benchmark Hospitality, meaning that her wine lists are used around the world in multiple hotels and resorts. Watson's main goal is simply to get people interested and enjoying wine.
"People can have an awful time with a sommelier because they're intimidated. When that happens we [sommeliers] aren't doing anybody any favors because it means people won't become interested and have fun with wine," she said.
To this end, Watson is much more hands on and easy to access, or, as she describes herself, "user friendly." A session with a group of business people was more of a conversation than a lecture as she offered her favorite wine and herb pairings and expressed her want for the participants to find what tastes they enjoyed over what others thought they should enjoy.
"It's really her personality and her ability to relate to the guests," said Caroline Epstein, the resort's conference planning manager who works with Watson to organize wine tastings. "She knows her stuff and gets excited and the guests get excited because of it."
BEHIND THE scenes, Watson is just as excited about almost every aspect of her job. As she rushed around preparing for the afternoon's seminar her wine selection for the event changed repeatedly. Heading back into the store room she looked through her options and explained how she selected wines for both the tasting and the restaurant.
"A lot of my day is taken up with people brining me wines to taste," said Watson.
Watson said she selects her wine based on taste and price value. A wine menu cannot be made up of simply wines that the sommelier enjoys, explained Watson, but also what sells well and what people enjoy.
"You start out with things you like," she said while searching through a few boxes of wine. "But you need an entire set of price ranges. You have to look for something you like that will also sell."
Watson should know what makes a good wine list since she has been working in the business for nearly 30 years. After deciding in her mid-30s to become a sommelier, Watson took courses while working at a hospital as a nurse.
"I took every wine course I could find, drink mixing courses, all things alcohol. To be a master sommelier you need to know all about everything. I even sold my blood to buy bottles of wine," Watson said.
Since then Watson has become a 13-time Wine Spectator Award winner, a Gold Cluster of Virginia Award winner and is a member of Women Chef Restaurateurs, Knights of the Vine and the Society of Wine Educators. None of this though seems to have gone to her head as she continuously reiterates that wine selection should be based on what individual people enjoy, not on what she enjoys.
Over the 14 years that Watson has worked at Lansdowne Resort, the area has grown. Along with this her herb garden and the popularity of the camps and courses have grown too. Still one thing remains the same Watson said, "You know when you're leaving the camp that you've had great food and drink and that is what is really important."
More like this story