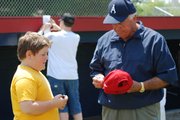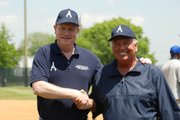 Former New York Yankee second baseman, all-star, Gold Glove winner and 1960 World Series MVP, Bobby Richardson, was in Alexandria on May 3, for a Salvation Army annual dinner.
Richardson, a former second baseman for the New York Yankees from 1955-1968 is the National Spokesman for the Fellowship of Christian Athletes and supporter of The Salvation Army.
He is a seven-time All-Star, five-time Gold Glove Winner, and three-time World Champion, including the World Series MVP honor in 1960 despite the losing to Pittsburgh.
Throughout his 11-year Major League career, he had 1,432 hits and 34 home runs and 390 RBIs. His career average was .266, and he batted at a .305 clip in World Series play.
He later became a baseball coach at the University of South Carolina, where he led the Gamecocks to the 1975 College World Series.
Silent and live auctions were conducted at the dinner, which benefited various causes. He also spent time with Bill Hall, the baseball chairman for the D.C. Sports and Entertainment Commission.