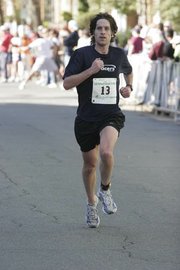 Just weeks after the world-renowned Boston Marathon, Pacers Running Stores, which sponsors area elite runners are hosting several races. And with the weather turning warmer, even novice runners have set goals of running after work.
With the George Washington Parkway 10-Miler race held April 27, and two more races — the Battle of the Boulevard 10K and the Race for Debbie 10K — in Arlington this Saturday, "The Connection" caught up with Pacers general manager Chris Farley to answer some generic Arlington-based running questions.
Farley ran at Yorktown before a standout career at the University of Virginia. One of four children of Chris Sr. and Adrian Farley, who acquired Pacers in 2003, Chris Farley finished sixth and ninth in the 2002 and 2004 Marine Corps Marathon respectively.
<b>The Connection</b>: What is the essential gear that beginners who want to start training will absolutely need?
<b>Farley</b>: If you only need one thing, you're going to need a good pair of running shoes. Good running shoes that are fit correctly for your foot suiting your needs for the level of pro-nation that your foot has, the size and shape.
Secondary to shoes would be socks, which is the next biggest priority when someone comes into the store. Socks that are synthetic material, that wick away the moisture to keep the feet dry and cut down on friction to avoid blisters. Beyond that, I like to recommend some of the moisture wicking apparel, especially as we get into the summer months. It doesn't get saturated with water like a cotton T-shirt would. It used to be an old cotton T-shirt was the thing to run in, but things have changed a lot.
<b>The Connection</b>: How does one find out about races that are going on locally?
<b>Farley</b>: We're going to be able to tell you the in's and outs of different races, because the experienced employees know the different characteristics of each of the races. There's other good race calendars, and there's so many races that you can find one every single weekend. You'll definitively be able to find one that will suit your needs, whether it's 5K, 10K, trail run, hilly course, flat course — we can dial you in.
<b>The Connection</b>: Why is Arlington such a hotbed for elite distance runners?
<b>Farley</b>: It's centralized to where a lot of the good running is, and a lot of the good races are. A lot of the runners that I know that are the elite runners get together and live and train in Arlington because of those two things. It's easy to get to races and great runs that are just outside your door.
<b>The Connection</b>: Where are the most preferred places to run in Arlington?
<b>Farley</b>: I live and run in Arlington everyday. One of the spots I like is the Custis Trail, which you can access from several places in Arlington, including Bluemont Park.
You can do a variety of different terrains, and they're mile marked for the most part on the [trails]. I also like running on Roosevelt Island, and Arlington is so close to D.C., that you can access Washington, D.C. very easily. There's a lot of great trails in D.C. as well.
<b>The Connection</b>: How would figure out if he/she wanted to join a local running club? And where do they meet?
<b>Farley</b>: There's a lot of different running clubs, some of which offer personalized training. You've got clubs that are more advanced and you've got more runners that are at a higher level that train for [the] Boston [Marathon]. It really depends on the individual's needs as to which club would suit them.
We can give direction to the other clubs in the area, the Arlington Road Runners, the Potomac runners, D.C. Road Runners, which are all great clubs. We can talk to you about what level your running is at and where we can suit your needs.