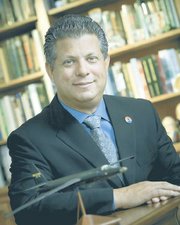 Forty-eight years ago, May 5, 1960, was a very bad public relations day for the United States and President Dwight D. Eisenhower. That's the day Soviet President Nikita Khrushchev proved to be a much better poker player than his American adversaries.
Four days earlier, May 1, a special day each year for the Russian Communist Party marking the establishment of the Soviet state with parades and an annual show of might in Red Square, they had literally received a windfall from the U.S. Central Intelligence Agency. One of the most advanced spy planes, a U2, had fallen from the sky after an encounter with a Soviet SAM Missile.
Both the pilot, Francis Gary Powers, Sr., and vital parts of his aircraft had survived the descent from 75,000 feet. But, Khrushchev and the Soviet intelligence agency, KGB, said nothing. They waited for the White House and CIA to play their hand.
In Washington, the Eisenhower Administration, aware the plane had crashed on Soviet soil, and hearing nothing from the usually flamboyant and outspoken Khrushchev, assumed the plane had disintegrated and that Powers was either dead or had escaped. So they put out an official story that "a weather plane" had been lost over the Soviet Union.
That's when Nikita played his trump card. He announced they not only had vital parts of the plane but also its pilot, alive and well. It was all part of the global chess game between the world's two super powers, at that time, known as "The Cold War."
Very personal insights of that time in history, which stretched from the 1945 conclusion of World War II to the disbanding of the Soviet Union in 1991, will be highlighted in a one hour lecture at The Lyceum in Alexandria on May 28 beginning at 7 p.m. It will be given by Francis Gary Powers, Jr., who wasn't even born when his father entered the annuals of World History. Entitled, "The Cold War - A Son's Perspective," it is free and open to the public.
In 1995 Powers, Jr. established the Cold War Museum as a 501 (C3) non-profit foundation to tell not only his father's story but also the comprehensive epic of that war and the people engaged in it from all perspectives. If everything goes as planned that museum will open in the next five years as one of the sites at the former Lorton prison and home to one of America's most powerful NIKE missile sites.
<b>THE GENESIS OF</b> both Powers' journey into history commenced on the morning of May 1, 1960 when Francis Gary Powers, Sr., climbed into the cockpit of his U2 spy plane at an air base in Pakistan and took off on an photographic intelligence surveillance mission over the Soviet Union. The aircraft he manned was our most advanced spy-in-the-sky at that time and their pilots were our airborne equivalents of James Bond.
Approximately three and one half hours into the mission, at an altitude of 75,000 feet, Powers saw a bright flash of light and the plane began to shudder, according to his son. A Soviet SAM Missile had exploded near the tail section and the U2 began to fall.
"The G-forces just pushed me right on; I went right directly over the nose of the airplane. And, it just seemed like I was floating," Powers, Sr., is quoted in the Almanac of World History explaining his experience.
Powers landed in a farm field and was immediately greeted by Russian farmers who didn't know if he was a Soviet pilot or not, according to Powers, Jr. When he wrote U.S.A. in the dirt they raised their pitchforks and waited for Soviet authorities to arrive.
Powers, Sr., had noticed a black sedan that seemed to be following his parachute descent. Soon after he landed Soviet officials arrived on the scene and chauffeured him to a prison for interrogation. And, there he remained under wraps until Washington put out their spin story.
At his espionage trial on August 16, 1960, the U2 pilot was sentenced to 10 years in a Soviet prison. But, 18 months into that sentence the Soviets and Americans reach a deal for a spy trade -- Powers for Rudolph Abel. "Abel went home a hero greeted by parades and ceremonies. My father came home to CIA debriefings and Senate hearing," Powers, Jr., related in a previous lecture before the Mount Vernon Rotary Club.
In 1977, Powers, Sr., was doing traffic reports for a local television station in the Los Angeles area when the helicopter he was piloting crashed. This time he did not walk away.
He died leaving his namesake, Francis Gary Powers, Jr., then age 12, with questions about his father, the U2 incident, and the "The Cold War." There were many unanswered questions and false reports, especially about the U2 incident.
Why had his father survived when all U2 pilot carried poison pills with them to take if captured? Was he actually a Soviet double agent who had landed the plane on purpose or had he been set up by the CIA? How could the plane have been hit by a Soviet missile at that altitude when, according to supposed American intelligence, they didn't have that capability?
All of this caused a 12 year old boy to "crawl into a shell," as Powers, Jr., described his early years. "I would introduce myself as just Gary because I didn't want all the questions about my father and the U2 incident," he said.
In college things began to change. That's when Powers, Jr., began to take the exact opposite approach. He now wanted to learn everything he could about his father's experience and The Cold War in general. From that curiosity and dedication has sprung his drive to establish The Cold War Museum.
"We want this museum to be impartial. We want it to show all sides of the Cold War standoff. The basic model of the museum will be a timeline from 1945 to the collapse of the Soviet Union. The artifacts will be tied to that timeline," he has explained.
It's also about setting the record straight, historically and personally. "The American government never did anything about setting the record straight about my father until 45 years later. On May 1, 2000 he was finally awarded the medals he deserved," Powers said.
He has undertaken a series of fund raising ventures to bring his museum into being along with collecting over three million artifacts, now in storage, of the Cold War era. The ventures include: A traveling Cold War Museum Exhibit that is on display at various venues throughout the nation; the creation and operation of a half day excursion throughout the nation's Capital known as the "Spies of Washington Tour;" and an on-line gift store that sells various Cold War era memorabilia.
"The artifacts have been collected by working with the embassies of many of the former Soviet block nations as well as with the Russians. Some of those items include Soviet uniforms, a mailbox used by spy Aldridge Ames, and a Stasi prison door," Powers said.
He has also established a Board of Directors, a group of International Associates, an Honorary Board, and an Advisory Board to aid with the planning, creation and financial development of the museum. Dr. Gerald L. Gordon, president and CEO, Fairfax County Economic Development Council; Virginia General Assembly Delegate David Albo (R-42); and Neal McBride, Laurel Hill Liaison, all serve in one of those capacities.
"I initially joined the Board because one of the things that helps economic development is a major tourist attraction that has broad appeal," said Gordon.
"All the military museums recognize specific groups. But, The Cold War and its warriors have always seemed to be sub-rosa. Those warriors did a lot that people are not aware of and this is an opportunity to bring their stories to light," Gordon said.
That was echoed by Albo. "My dad was a Cold War veteran and there is really nothing to honor their service. Gary is the guy who has taken the bull by the horns and has gotten this museum up and running," he said.
"I had a lot of ties to The Cold War. I've been an amateur Cold War buff for years and the old NIKE base is the perfect site for a Cold War Heritage Park," said McBride.
"If we do this right it can be an amazing coup for Fairfax County. We're keeping our fingers crossed that later this year the County comes to an agreement on the lease so Gary can begin to get this underway," McBride said.
The lease for the space at the Lorton site was submitted to the County on April 8, 2008. Powers had to resubmit his proposal, originally submitted in 2006, due to a change in Fairfax County's public/private partnership regulations. Powers is hoping for approval by the end of 2008.
"We hope to have the museum operational within three to five years after the lease is approved," Powers said. The first phase would be the building of a 10,000 square feet structure to house some of the artifacts and serve as a learning center.
Over a 10 year period the space would be increased to approximately 100,000 square feet with a second building and an elevator down into the NIKE bunker, according to Powers. Until the museum becomes a reality, Powers continues to work with the International Spy Museum in the District and the Atomic Bunker in Harnekop, Germany, near Berlin, to tell the story of the Cold War and its special group of warriors.
His upcoming lecture at The Lyceum will provide those attending an opportunity to gain a first hand account of that era as well as a personal perspective into one of its most famous participants. It was the time when, as Winston Churchill stated in his famous University of Missouri speech, "a great iron curtain" fell across Europe.