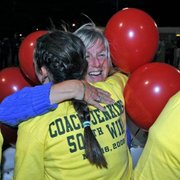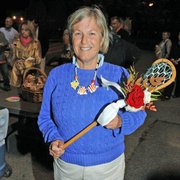 Kathy Jenkins started coaching the St. Stephen's & St. Agnes girl lacrosse team in 1976, before her current roster was even born. But the current roster, some of who are daughters of former players, capped a perfect season for the legendary coach.
Jenkins received her 500th win as the Saints completed an undefeated season by blasting fifth-seeded Episcopal, 19-3, on Friday and second-seeded Collegiate School on Saturday at the University of Richmond.
The Saints finished the season with a school-record 26 wins, which is also the nation's best according to www.laxpower.com. According to the same Web site, SSSAS currently holds the No. 2 national ranking behind Maryland power John Carroll School, though it could still change.
But over the weekend, the focus was on Jenkins and her 501-41-9 career record that includes 20 Group AA Independent School League championship seasons. The players weren't notified of Jenkins' milestone win until there were three minutes left in regulation.
"It was awesome," said girls athletic director Samantha Eustace, who also serves as an assistant coach. "The parents had bought T-shirts and had flowers, balloons and cake. She was very excited. It's been a special team for her."
After the state championship — the Saints second victory over Collegiate this season — the players were emotional that the season was coming to a close.
According to Eustace, the group of 11 seniors, nine of which are headed to play Division I next season, was a unique crop.
"They were crying before game was even over," Eustace said. "They were tears of something great that was coming to an end."
"These players, and especially these seniors, have made this season so special," Jenkins said after the game.
Eustace echoed the head coach's sentiments, saying that talented group bought into the team philosophy.
"This particular group of seniors and particular the captains have just been wonderful," Eustace said. "It's not about any individual person or the accolades. It's been about the team from the very beginning."
Four days prior to the state title, the Saints pounded Georgetown Visitation for the second time to capture their 14th consecutive ISL-AA title. Senior Hadley Lankford, who finished the season with school-record in assists, had five goals in the ISL final. Kelly Austin and Charlotte Davis added four goals as SSSAS cruised after amassing a 10-3 halftime advantage. The Saints haven't lost a league game in over a decade.
In the fall during field hockey, many of the same girls, including mega-recruit Annie Taylor (University of Virginia) helped Marsha Way get her 300th victory. The Saints also won the ISL-AA regular season, ISL title and VISAA state championship.
"For these seniors, they've won everything," Jenkins said.