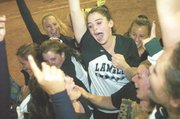 Langley High freshman second baseman Mandy Moll batted in the go-ahead run Monday night as the Saxons fought from behind to defeat visiting Stone Bridge, 9-8, in the Concorde District softball tournament title game.
In a dramatic postseason contest that see-sawed back and fourth throughout the night, it was No. 3-seed Langley, playing on its home field, that finally broke through in the extra innings by scoring three times in the top of the 10th inning to surge ahead 9-6.
Moll, Langley's No. 9 hitter in the line-up, came to bat that inning with runners on first and third with one out in a 6-6 tie. She sent a fly ball into right field that was misplayed, allowing teammate Lauren Engel to score from third base to make the score 7-6 Saxons.
Even if the fly ball had been caught, Engel would easily have scored on a tag up.
Following Moll's at-bat, Langley got three consecutive hits – from Jam Mowery, Christina Bumpus and Kelsey Green. Runs crossed the plate on both Bumpus and Green's hits to give Langley breathing room at 9-6.
It turned out the Saxons (18-5) needed those extra insurance runs. In the bottom of the 10th inning, Stone Bridge catcher Kayla Lechler, with a runner on second and two outs, belted a towering, two-run home run over the right center field fence to get the Bulldogs within 9-8. It was the senior's second homer of the game and fifth base hit. For the night, Lechler, an All-Met player and Stone Bridge's No. 3 hitter in its line-up, knocked in six runs.
But after Lechler's two-run smash got her team within one, Langley relief pitcher Brooke Brown, who had entered the game way back in the fifth inning, retired the next batter on a groundout to shortstop Green to end the game.
Langley, by winning the epic, hard-fought game, won its third straight district tournament crown and fourth in the last five years.
"It was kind of an up and down game," said Langley coach Bob Morrow, whose team had rallied for two runs in the seventh inning to force extra innings. "But in the [10th] inning, our big hitters came through."
<b>RUNS IN THE GAME</b> were scored in every inning from the first through the seventh. But in extra innings, neither team scored in either the eighth or ninth innings. The offense picked up again in the 10th and Langley was the last team standing.
One of the game's critical moments came in the seventh inning. Langley, trailing 6-4, had runners on first and third with two outs. The next batter, senior right fielder Lauren Engel, needed to reach base to keep the game going. She worked the count full against Stone Bridge pitcher Cassie Phillips (9-2/3 innings of work) before lofting a ball towards the opposite field in right. The ball landed for a double and plated both runs to tie the contest at 6-6.
"All that was going through my mind was, `Hit the ball and keep the inning going,'" said Engel, who went on to garner tournament MVP honors.
Both teams had players who put together huge individual games. For No. 1 seed Stone Bridge (17-6), who had beaten Langley by scores of 11-7 and 4-2 during the regular season, Lechler, the Bulldogs' senior catcher, was outstanding at the plate with her two home runs and five hits.
"She's the leader of the team," said Stone Bridge coach Mike Skinner. "She's a beast at the plate."
Other multi-hit games for the Bulldogs came from Cori Prince (2 singles, 1 walk), Lauren Wolz (2 singles) and Amanda Adams (2 singles).
Meanwhile, on the mound, Phillips, Stone Bridge's starting pitcher, battled hard into the 10th inning before Ashley Gardner (RBI single at the plate) came in to replace her. Langley had 12 hits off Phillips, including a two-run homer off the bat of Saxon leadoff hitter Mowery in the fourth. But the pitcher remained unfazed and kept forcing the Saxons to earn their runs. She finished with three strikeouts and two walks.
For Langley, coach Morrow used two pitchers – starter Shannon Engel (4 innings, 2 runs) and reliever Brown (6 innings), who earned the win.
"I switched pitchers because Shannon was struggling a little bit and Brooke has pitched well all year," said Morrow.
<b>LANGLEY</b>, which overcame an early 2-0 deficit with two run innings in both the third and fourth innings to go ahead 4-2, rapped out 14 hits in the game. Mowery, the team's senior third baseman, finished with three base hits, including her fourth inning homer that barely cleared the center field fence and gave the Saxons their 4-2 lead.
Other multi-hit games for Langley came from Bumpus (2 hits, 2 runs), Green (3 hits, 2 runs) and Lauren Engel (2 hits, 3 RBIs), who began the three-run 10th inning by reaching base on an error.
The game was an endurance test with the question being who would outlast the other.
"It was a huge toll on our team," said tourney MVP Lauren Engel, of the ups and downs throughout the extra inning affair. "We had to keep pushing ourselves."
Said Skinner, the Bulldogs' coach, "Our kids battled and they battled. [Langley] came up with the hits [late]. Cassie pitched well. We made some mistakes behind her we don't normally make. …I'm real proud of our kids. We're not done yet."
Both Stone Bridge and Langley will compete at the 16-team Northern Region tournament, which was set to begin this week.
Langley, once again, prevailed to win the district this season. It was not easy for the Saxons to defend their titles of the previous two years.
"It's nerve-wracking," said Langley's Mowery. "Everyone wanted to get us because we won [the title] the last two years. Stone Bridge is a great team."
During the postgame awards ceremonies, the 11-member all-tournament team was announced. Kelsey Green, Jam Mowery, Christina Bumpus and Lauren Engel (MVP) made it for Langley. And, for Stone Bridge, Kayla Lechler, Lauren Wolz and Natalie Driskill were named. Other players to make the team were: Lauren Sutherland (McLean), Alaura Maglio (McLean), Laura Wolff (Madison) and Toni MacReynolds (Madison).