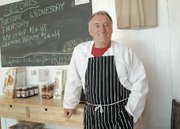 <i>Keeping Shop is a regular feature of the Gazette Packet. To qualify, retail shops should be locally owned or operated; new, expanding, celebrating a significant anniversary or doing something otherwise newsworthy. To nominate your business or another business, contact Mary Ann Weber, editor, Gazette Packet,<a href=mailto: maweber@connectionnewspapers.com> maweber@connectionnewspapers.com</a></i>.
<b>Owner:</b>
Stephen Gatward
<b>Short bio:</b>
Steve was born in Colchester, the oldest recorded town in England. He was an apprentice under a master butcher in England and has worked as a butcher in England and Sydney, Australia, where he also lived. Steve is also the co-author of a guidebook, The Other Side of Sydney, and was in advertising sales in the US prior to opening his European-style Butcher shop. His last name, Gatward, is an old Irish name that means Goat Herder, so being a butcher is in his blood!
<b>Why did you choose this particular business?</b>
Steve decided to open the butcher shop because the US market has really grown to appreciate the old-style butcher shop. Steve realized that consumers were looking for local meats and they were willing to support a store that focused on grass/pasture fed meat, antibiotic/hormone free. Del Ray, in particular, was chosen because it is so European-style. After looking at Georgetown, Dupont Circle and other locations, Steve chose Del Ray because he realized that he would fit into the local culture of shopping frequently for fresh foods. Of course, it was also wonderful that Let's Meat on the Avenue was able to take Cheesetique's original spot, which is perfectly located a jump from the Farmer's Market.
<b>Why did you choose to work for yourself rather than as an employee for someone else?</b>
The time was perfect to open a small business. The community is educated and understands the importance of buying the type of products that LMOTA sells. It made sense to open in Del Ray, a community where people love to shop for fresh foods.
<b>What have you learned from being in business?</b>
It's truly rewarding being a part of a community. Share an anecdote of a challenging or humorous experience or biggest surprise learned from working your business: Steve was most amazed by just how friendly and supportive the Del Ray community is. We already have regulars, including our favorite Great Dane who stops by on a daily basis for our smoked marrow bones. We've had customers help fix the cash register or even run next door to the bank for money as we ironed out all the details of using a cash register/credit card machine.
<b>What have been the advantages and/or disadvantages of operating a business in Alexandria?</b>
While the process of opening a business is long and somewhat bureaucratic, the government of Alexandria, in particular the health department, was always accessible. Steve appreciated their assistance in navigating the necessary permits and regulations.
<b>Key staff</b>
Zena Polin
<b>Description of services and/or products:</b>
The meats are purchased locally in Virginia, and are delivered two to three times a week fresh to the shop. Our supplier only supplies to a few select restaurants and our butcher shop. The Amish sausages are not sold anywhere else in Washington and Virginia. They are picked up fresh from our Amish friend every Thursday. The German brats are made by another friend, a German butcher in VA. The chickens are air cooled, which is technique that ensures there is no cross contamination and prevents excess weight from water. All the meats are hormone and antibiotic free. The meats are grass/pasture/corn fed. You can see them when driving out to Sperryville, VA. We know exactly where our product comes from. In addition to selling some of the best meat available in the region (he visited almost all of his suppliers), Steve takes special orders so people can park, run in and pick up whatever they need, trimmed however they like. Steve will also be selling Let's Meat on the Avenue Spices and Rubs in the near future. Give the Gift of Meat – we have gift certificates. Steve will also do "classes" on European cuts of meat, for example: Standing Rib Roast, Racks of Lamb, Pork Leg Roasts, European Style Roast Beef, Game (venison, rabbit, pheasant, Cornish game hens, quail), stuffed double pork chops, etc.
<b>Professional affiliations/associations:</b>
Del Ray Business Association