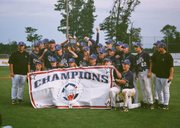 Whenever the Chantilly baseball team would practice indoors during this particularly wet 2008 spring season, head coach Kevin Ford would get a chance to look up all of the district championship banners that the Chargers athletic programs have amassed over the year. He would always take note of the baseball team's last district banner.
"1991," said Ford. "That was the last time that I was in high school."
Thanks to the combined pitching efforts of junior starting pitcher Jordan Johnson and senior reliever Chris Yates and a towering two-run home run by junior first baseman Brian King, the Chargers can hang their first district banner in 17 years with a 5-3 win over Oakton in the Concorde District tournament championship game.
Johnson, who has pitched in all three games against Oakton this year, allowed only two hits in five innings of work, at one point retiring twelve-consecutive Cougars.
"He is a kid that just goes out and battles," Ford said. "He doesn't get all the notoriety that some of our other guys do. His pitches aren't quite as overpowering as some of the other guys, but he throws three or four pitches and just come right at you. He keeps throwing strikes. The kid is just fearless."
Taking a 3-0 lead into the fifth inning, Johnson hit senior Bret Williams and then walked junior Adam Henne and junior Bobby McCormick to load the bases with no outs. After retiring freshman Luke Willis on a strikeout and junior Trevor Falk on a sacrifice fly, Johnson gave up a two-run double to senior Keith Werman to even the score at 3-3. Werman was thrown out trying to take third on the play to end the inning.
"It is an 0-0 game again," King remembers the team saying in the dugout after the fifth. "We just have to score some more runs and get right on it."
With two outs and a man on in the top of the sixth, Oakton head coach Scott Rowland considered pulling starting pitcher Keith Wager in favor of senior Bart Reese. Rowland opted to let Wager finish the inning and King responded with a towering blast over the scoreboard at Westfield High School to give the Chargers the 5-3 lead.
"It starts with me. We had our guy ready in the bullpen, I just didn't pull the trigger," said Rowland. "We discussed it before he hit it. It is my call to make."
The shot was King's second homer of the year. His only previous home run was a three-run bomb against the Cougars on May 5.
"He is so big, if he finally gets his arms extended, the ball really goes for him. That was huge. Just a clutch hit," said Ford.
Added King: "I just wanted to hit it hard. It ended up getting over the fence."
Yates retired the final six Oakton batters to secure the Chantilly victory.
"[Oakton] has pretty much owned us for a long time," said Ford. "[We had to] get over the physiological block were we can not only play with them but we can beat them."
The Cougars lost their second-consecutive Concorde District final. Last year, Oakton came back to win the Northern Region title.
"I still think that we can beat anybody, but it is obvious that we can lose to anybody too," said Rowland. "We will have to regroup and it is going to be hard to regroup after a tough loss like this."
Chantilly will host Mount Vernon on Friday at 7 p.m. in the first round of the Northern Region tournament. The Cougars will match up against Washington-Lee.