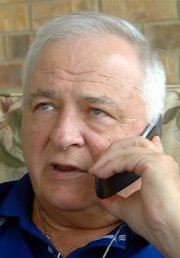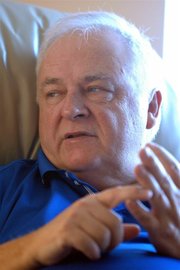 Less than a month ago, Charlie Weber sat in a plastic chair at American University chatting on one of his two cell phones. On an overcast, chilly Sunday, the gray-haired, pot-bellied tournament coordinator was locked inside, at the forefront of the entrance of Bender Arena.
Yet as time passed, the ever-changing basketball nucleus barely recognized him. A few coaches chatted him up, but mostly the hordes of players passed him unknowingly.
Weber's world is the sometimes filthy, but necessary arena of amateur basketball, where desperate college assistants gawk at teenage basketball players, some of who aren't old enough to possess a driver's license. On championship day, the spectacle is always on the court, where coaches are scribbling in their final evaluations and kids are battling for a coveted chance at the ultimate prize — a Division I scholarship.
"Over the years plenty of kids have used his events as a platform to further their reputations and in turn earn college scholarships," said Dave Telep, Scout.com's national recruiting director.
While the coaches confer on the railing overhead, like scientists watching lab mice, Weber sits in the shadows. A Brooklyn-styled Gatsby, he has grown to dread the inevitable headache that the nearly 190-team tournament, which bears his name, causes.
"You're worried about everything that could go wrong, from a father coming out of the stands and punching a player to a fist fight between a referee and a coach, and teams showing up where they're supposed to be," Weber said.
After a cycle of three concurrent games finished, one featuring the second tier team of Hampton-based Boo Williams — with T.C. Williams guard Edward Jenkins, and another of much-publicized D.C. Assault, Weber took a glance at a massive three-ring binder, trying to synchronize eight tournaments trees that bent in awfully awkward angles.
"Just make sure the referees get to Gallaudet (University)," Weber said wildly, trying to simultaneously hold three conversations. Another coach, who's team had just won an overtime semifinal thriller, demanded that there was no plausible route across Wisconsin Avenue that would have had his team ready to play in less than 20 minutes.
Weber, exhausted from the month-long blitz of sleepless leading up to the first of two tournaments over consecutive weekends, simply sighed.
"People get lost," Weber said later. "You're getting telephone calls from coaches who haven't shown up so you have to break out directory, and ask 'where the hell are you?' There's always a problem somewhere."
<b>IN 1990</b>, Weber worked for the Department of Labor, and aside now-New Mexico governor Bill Richardson while his wife Jo worked exactly a floor higher for the Department of Foreign Affairs. Fate tugged the pair — who will celebrate their 38th wedding anniversary in July — to Washington, D.C. from their native New York City in 1971. Circumstance would later expose the couple to AAU basketball, when recruiting analyst Bob Gibbons initially asked Weber to interview athletes about their prospective colleges.
At a Nike-sponsored event in Princeton, N.J., Weber met then-University of Maryland assistant Billy Hahn, when the college assistant casually conjured up the idea of a small tournament hosted at Cole Field House after a church service.
"I told him I wouldn't know how to start a tournament," Weber said.
He did, first starting with 12 squads spanning the Mid-Atlantic, with teams traveling from both Tennessee and Boston. Weber remembers buying pizza for Rasheed Wallace, then a lanky high school junior and baby-faced high school freshman Ron Mercer, both of whom eventually morphed into NBA stars.
The next year, the event ballooned to 16 teams and soon thereafter Ron Stewart, a then-assistant for Lon Kruger at the University of Florida, coaxed Weber into coordinating a Florida-based tournament. Before he knew it, Weber's tournaments, one of which he co-coordinated with Gibbons, were considered premier stops on the summer circuit.
The shoe contracts, a necessary evil in the grassroots basketball landscape, came calling. First, it was adidas, then Nike, back to adidas to Converse, and then his final one with adidas, which terminated on Dec. 31, 2007. Included in the deals were 10,000 T-shirts, 48 pairs of shoes, 60 golf shirts, a $2,000 clothing allowance and cash.
Relationships with high school, AAU and college coaches were soon cultivated, and by the late 1990s, Weber was a mild influence in where and more importantly, which kids would be showcased.
His premier annual event became the Charlie Weber Invitational, held annually in September, then one of the most pivotal recruiting months of the season. Weber relayed a message from then-UMass head coach John Calipari, who said his tournament "was like a convention, where you had to show up."
<b>WEBER WAS ON TOP</b> when his relationship with Gibbons deteriorated beyond repair in 2000. In the ego-driven, money-grubbing business of amateur hoops, the abrasive pair went their separate ways, and despite a decade-long partnership, have had one cold conversation since. So Weber and Jo, who was part-secretary, part-fill-in, carried on alone, before a coaching coalition — he's convinced that was spearheaded by Roy Williams and Mike Krzyzewski — lobbied the NCAA to erase the September team evaluation period. Weber thinks the ruling was based on jealously of other ACC coaches, who argued that U-Md. received an unfair advantage by having recruits attend the tournament on campus. After all, four of the five starters from the Terrapins' 2002 championship season had played in Weber's crown jewel of a tournament.
So in 2002, Weber's event became irrelevant overnight. Instead of having teams beg for an opportunity to fork over the $595 entrance fee, Weber was forced to adjust his tactics. So he developed the consecutive late April dates.
"Back when I got into the business in 1997, Charlie had the hottest fall tournament in the country," Telep said. "Teams were flying into College Park for his deal and it was big time. The landscape changed and fall AAU events weren't happening any more but for a period of time, Charlie ran the biggest in the country."
Weber's tournament has taken a hit, like a powerhouse getting knocked down a few pegs.
"Charlie hustles," Telep said. "Each year the competition for these events becomes more fierce and year in and year out Charlie's still getting it done."
He still holds tournaments, mostly based on contacts he's honed through the years, but instead of watching blue-chippers like Tim Thomas and Kobe Bryant face off as 17-year-olds, he's providing opportunities for mid-major AAU teams to be evaluated by lesser known schools.
"These days his spring events are lifeblood for mid-major programs in the Mid-Atlantic region," Telep said in an e-mail interview. "They provide kids who might not be Top 50 players a chance to get after with a lot of head coaches in the gym."
<b>LESS THAN 24 HOURS</b> after his April tournament, Weber sat in his plush tan recliner on the 11th floor of a high rise Alexandria condo right off Route 1, where he and Jo, manage their basketball enterprise. Still, Weber, dressed in white adidas athletic shoes and a blue golf shirt had the same tone, one that hovers between genuine enjoyment for being a senior member of basketball's inner fraternity and another that bites on the bitterness of what it's become.
"The whole mentality is that all of these kids think they're God's gift to the world," Weber said. "They're all looking at it now and saying, what's in it for me?"
A few moments later, he's telling stories of Hakim Warrick, now of the Memphis Grizzlies, who probably would have never received a scholarship had it not been for a can't miss weekend at the fall tournament. Or conjuring up names surrounding former show executive John "Sonny" Vaccaro like Carlos Boozer and Lamar Odom, or even sagas from lesser-known recruits like Will Solomon (Clemson) and Jerome Harper.
Or tales about how a father spilled magic marker all over Williams, who was sitting in the rafters not wanting to be bothered, or how Calipari should be a stand-up comedian.
During the near-two hour conversation, Weber again flashed a level of resentment, saying he can't keep up with other tournaments that offer financially laced incentives in exchange for kickbacks or how the lack of a shoe contract deters his credibility.
"I'm glad that my career in this is coming into the final stages because I'd hate to be starting out," Weber said.
But weaving through the conversation, he harks on a life-altering experience, when a routine surgical procedure turned into a month-long hospital stay.
During the ordeal, he received 142 e-mails and even more concerned phone calls from the basketball brotherhood, some from current coaches like Matt Doherty and Mike Brey, and others from diverse contacts sprinkled across the nation.
"I was never so emotional in my entire life," Weber said when reading them all at once.
Still though, Weber realizes his 18-year run is nearing its final chapters.
"It's going to hurt me to walk away from this, whether it is this year or next year because you develop relationships," Weber said. "I know it's going to happen because it's the nature of the way these things work. You're going to end up being separated from the fraternity."