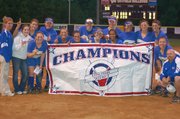 After an 8-1 loss to Centreville on April 1 that dropped the Rams to 1-6 on the season and 0-2 in the Concorde District, Robinson softball head coach Barry Gorodnick had a talk with his squad.
"I knew the potential that we had, but the kids didn't really believe," said Gorodnick, whose Rams were the defending Northern Region champs, but graduated Division I recruits Dorian Shaw (Michigan) and Taylor Cunningham (Radford).
"It was a rough start. We hadn't come together as a team yet," said senior pitcher Erin Henning.
Since that start, the Rams have won 13 of 16, including nine straight victories. Robinson's latest victory, a 4-2 win over Herndon, secured the Rams their first district tournament title since 2004.
"Nobody expected us to be here. They knew that we were going to be competitive because we have good players, but I don't think that anybody thought this," said Gorodnick.
At the end of the regular season, the Rams finished in a four-way tie for the second seed in the district tournament. Due to the flip of a coin, the Rams earned the No. 2 seed and dispatched Fairfax (18-1) and Westfield (9-7) to earn a spot in the championship game. Instead of facing No. 1 seed Centreville, who had beaten the Rams twice this year, Robinson was surprised to see Herndon emerge as its opponent.
"We didn't really care who we played, we just wanted to be here," said Gorodnick, whose Rams split the season series against the Hornets — each game separated by one run.
<b>THE HORNETS</b> jumped out to an early lead against the Rams at Westfield High School on Monday night when Herndon pitcher Katie Briggs stroked a Henning offering over the centerfield fence for a 1-0 lead. Briggs added another RBI in the third inning, scoring pinch runner Carly Horne on a single to give the Hornets a 2-0 lead.
"She can hurt us, hitting and pitching," said Gorodnick of Briggs, who held the Rams to one hit through three innings.
The Rams used smart base running to climb back into game in the fourth. Sophomore Marcy Bowdren led off the inning with a single to centerfield and then stole second. With one out, Henning drew a walk and sophomore Kathryn Lohr advanced both runners with a grounder to second.
Briggs threw a wild pitch to the next batter, allowing Bowdren to walk home. Gorodnick, noticing that the Hornets were not paying attention, sent Henning to home as well, knotting the score at 2-2.
"It felt like the tide was changing a little bit," said Gorodnick of tying up the game.
Doubles by junior Christine Cunningham and Bowdren gave the Rams a 4-2 lead and Henning scattered four hits in the final four innings to secure the Rams' victory.
Robinson will begin its Northern Region title defense this Friday when the Rams host National District No. 4 seed Edison at 7 p.m.