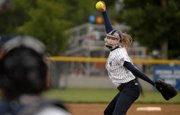 South County head coach Al Thompson — selected as the Patriot District Coach of the Year — joked with his team after the game that he'd already purchased the district championship banner, and because he knew his team would win.
He may have been eventually right, but the fiery coach and his talented team were staggering on the ropes for the majority of Tuesday night. But a never-give-up attitude, and crucial hits lifted South County to its second straight Patriot District title in only the school's fourth year of existence.
Stallion sophomore Michelle Boynton Boynton drilled a walk-off single, driving in sophomore Karly Thompson in the bottom of the ninth inning to lift the Stallions to a 2-1 victory over West Springfield on the Spartans' home field.
"It's all a blur," said South County junior first baseman Kayla Reisinger, who reached base on a one-out single. "I was standing on first base watching Stephanie [Sbardella] (who was on second) run around as I was rounding second and I kept running. I knew we got it and was ecstatic."
<b>THE STALLIONS</b> went 14-0 through the regular season and had league-best five representatives on the first team all-district squad, including Pitcher of the Year Chelsey Dunham.
South County, riding Dunham's right arm, blasted through eight-seeded T.C. Williams, 18-0, and fourth-seeded Lake Braddock, 8-4, to earn the championship berth. Meanwhile, the Spartans, just 5-9 within the district, had to endure battles with third-seeded Hayfield (2-0) and second-seeded West Potomac (1-0).
"We saw them win and we had to get ready because West Springfield is not a team to joke around with," Reisinger said.
Riding a 1-0 lead, the Spartans had an opportune time to add much-needed insurance runs in the sixth inning. Christen Gibson, daughter of head coach Maggie Gibson, drilled a 3-1 pitch to the right outfield gap for a triple. Senior Kathryn Rogers reached second on fielder's choice, putting two runners in scoring position with no outs.
"It's a heart attack," Reisinger said. "With no outs, you're scared out of your mind. We knew we had to do something."
Dunham buckled down, earning three consecutive strikeouts to end the inning.
"I thought for sure that we'd get something out of it," Gibson said afterward.
<b>IN THE BOTTOM</b> of the seventh, the Spartans still maintained a one-run lead. Needing three outs to earn its first district title since 2006, West Springfield relied on powerful senior right-hander Jess Thomas.
"Jess is a battler," Maggie Gibson said. "Out of all my players, she's the toughest one so if anybody is going to be on that mound, it's going to be Jess. No one wants it more than her. I felt confident with her up there."
Thomas relinquished a single to Thompson, who came off the bench to earn two hits, to open the inning. After a bunt attempt failed, Sbardella's short blooper set up runners at first and second. A subsequent walk loaded the bases, sending Reisinger, a first-team all district selection to the plate.
"I kept looking at my parents and everyone out in the stands thinking, 'oh my gosh, if I mess up, it's the game on me,'" Reisinger said. "I knew I had to do something."
A sacrifice fly sent the game-tying run in, and ensured the game would go into extra innings.
"I just knew that our team would get it back and that we would never quit," Dunham said.
<b>BOTH TEAMS WILL</b> host the first round of the 16-team Northern Region tournament, which starts on Friday. The Stallions will face Madison, the fourth seed from the Liberty District at 7 p.m. With a 20-3 record, South County is one widely considered to be one of the favorites to compete for the regional crown.
Thompson told his team they still have work to do and Dunham reiterated it after the game.
"Our goal is to win regionals," she said.
For West Springfield, who will face McLean, the Spartans are hoping for continued success in close games after losing six one-run games, and nine by three runs or less this season.
"I think when you go through the fire, it really tempers you," Maggie Gibson said. "We've been in close games all season so we know what we can do."
Thomas, a first-team all-district first baseman, echoed her coach about still having something to play for despite the tough loss.
"It is a new game, new tournament and a new season," she said.