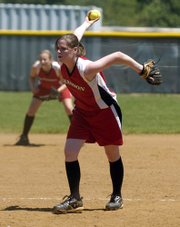 Katie Rynex still remembers how she felt after breaking her ankle sliding into second base two months ago. When the Hornets' pitcher learned that she would lose a sizable chunk of her senior season, the first thing that she thought of was her teammates.
"It affected me a lot because I felt like I let down the team," said Rynex, who was injured on March 28 against St. Frances.
Rynex, watched as the Hornets rebounded and finished the regular season tied for second place. She watched as the Hornets advanced to the Concorde District tournament finals for the first time in school history.
"It was hard to watch," she said.
By May 16, however, Rynex was finally cleared to play.
"The doctor gave her clearance and she wanted to pitch [immediately]," said Herndon head coach Bonnie O'Hearn. "This is what she has been waiting for."
Rynex worked 1 1/3 innings in the Concorde District final, allowing one hit and striking out two in the Hornets' 4-2 loss to Robinson.
It wasn't until the Hornets' Northern Region quarterfinal matchup against South County on Monday that Rynex got her chance to start.
"She is a competitor," said O'Hearn. "Her goal was to get back in time for regionals. This was our goal."
The Hornets' hurler didn't disappoint, pitching a complete game shut out against the top-rated Stallions, allowing only three hits and striking out 12 in Herndon's 1-0 victory.
"It was intense," said Rynex. "My team was behind me all the way and I just did what I do best. It felt great."
<b>WHEN HERNDON'S</b> Marra Hvozdovic singled off of South County's starting pitcher, sophomore Chelsey Dunham, to lead off the game and then scored on a double by Rynex two batters later, it looked as though both teams had a high scoring affair in front of them. It turned out, however, that Hvozdovic would be the only player on either team to touch home plate.
"That is all it takes at this level," said South County head coach Al Thompson. "It is tough when you drop one run in the first inning."
After the first inning, Dunham, two-time Patriot District Pitcher of the Year, matched Rynex pitch for pitch. Dunham scattered seven hits, using carefully placed pitches and plenty of movement to induce 11 infield pop outs.
Thompson, who led the Stallions to their second consecutive district title this year, admitted that he was surprised to see Rynex start for the Hornets.
"We were looking forward to seeing [Katie] Briggs. We are proud to say that they had to bring her in for us," he said with a smile.