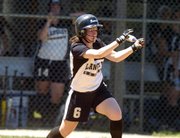 The Centreville and Langley softball teams traded blows for over two hours on Monday afternoon in the Northern Region softball tournament quarterfinals at Falls Church High School. The epic matchup featured game-tying doubles, game-saving plays at the plate and a towering home run to center field, but it was a slow roller to third base, however, that decided the game.
With two outs and the scored knotted at 6-6 in the bottom of the eighth inning, senior first baseman Lizzie Sharkey hit a swinging bunt toward Centreville freshman third baseman Cara Donovan. Donovan fielded the ball cleanly, but her throw to first baseman Brianne Pease sailed wide, allowing Saxon senior Lindsay Brown, who was at second base, to score the game-winning run, 7-6, and send the Saxons into the Northern Region tournament semifinals.
Centreville head coach Rich Ferrick praised his team as the stunned Wildcats packed in the dugout.
"The kids fought hard all the way through – tooth and nail," he said, before switching focus to Donovan. "We wouldn't be here if it wasn't for Cara Donovan. I am telling you right now, she is still our player and we love her to death. She is a big reason why we are here."
<b>ERRORS PLAGUED</b> the Wildcats throughout the game, as three of the Saxons first four runs were unearned. Down 4-1 in the top of the fifth inning, however, the Wildcats battled back. Singles by junior Jessica Ferrick and freshman Karen Johnson and a double by senior Megan deLorimier helped tie the score at 4-4. The Wildcats then took their first lead of the day in the top of the seventh when Ferrick hit a two-RBI single off of Saxon pitcher Shannon Engel to put Centreville up 6-4.
With two outs in the bottom of the seventh, the score remained 6-4 with Saxons at second and third and Langley senior captain Kelsey Green walking to the plate.
"I was thinking in that inning, 'We need another person on base to get Kelsey up.' That was what I was thinking in the back of my mind," said Langley head coach Bob Morrow.
Green was thinking about something completely different.
"I was just hoping not to be the third out in the last game of my senior year," she said. "I was just hoping to at least put the ball in play and make something happen."
Green made something happen, stroking an offering by Ferrick down the left field line for a two-RBI double to send the game into extra innings and set up the Saxon win.
"It has been different kids at different times. They just keep on battling, they don't quit," said Morrow.