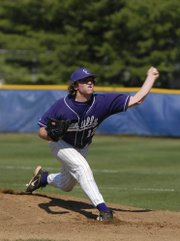 Chantilly head coach Kevin Ford debated whether to argue a 2-2 call in the bottom of the fifth inning. Up 3-1 in the quarterfinals of the 16-team Northern Region tournament, with what he's previously called "his best pure baseball player" in first-team All-Region catcher Keith Morrisroe at the plate, Ford took his time heading toward the umpire for his third base box.
"He's been our best hitter," Ford said he thought to himself afterward. "He's been clutch all year."
Morrisroe was plunked on the left elbow by a hanging curve from reliever Brennan Miller. But what wasn't apparent for the bi-partisan crowd at Robinson on a blue-skied Memorial Day afternoon, was that Morrisroe, at least according to the home plate umpire, did little to avoid the contact. After initially taking first base, he was thus ordered back to the plate.
"He wanted to hit anyway," Ford said. "If you watch the kid, he doesn't want to get hit by a pitch, even with two strikes."
With no outs and a runner already on, Morrisroe pelted a fastball into a momentum-boosting triple to the right gap, scoring one run and virtually closing South County's chances at a repeat of last season's state semifinal run. Once on third, Morrisroe pumped his fist, and let out a rare roar.
"I told the umpire thanks afterwards," he said. "It felt good to see the team pumped up and excited."
The hit ignited the Chantilly bats, which had been stymied by South County's Peyton Bartlett in the first three innings. The Chargers started a mere 2-for-12 at the plate.
"A couple of guys were a little too anxious," Ford said. "If we just play our game, we'll be okay. It's when guys do things that they really shouldn't be doing. That comes as you get into the flow of the game and guys relax a little bit. It was nice to hit the ball at the end."
Morrisroe and Max Langford each finished with two hits and an RBI, while Justin Carwile drove in a pair of runs.
<b>SOUTH COUNTY</b> scored first, going up 1-0, following a run in the top of the second. It held the lead until the bottom of the fourth, when Chantilly strung together three runs on four hits.
The Stallions never really recovered.
Chantilly starter Jordan Johnson and reliever Chris Yates were potent, combining on a two-run, seven hit outing. Yates took over for Johnson in the fourth, and tallied five strikeouts.
"We got what we wanted out of them," Ford said.
The Chargers added another run in the fifth when Chris Yates scored Morrisroe on a fielder's choice. From there, Chantilly scored three more insurance runs in the bottom of the sixth to coast into a match-up with Patriot District runner-up West Springfield in the quarterfinals at South County on Wednesday. The result was too late for this edition.
"We're going to have to execute," Ford said. "Hopefully, we'll come out and down that. I don't think we've seen anybody this year that throws as hard as [West Springfield pitcher Mike Kent]. We'll probably do a couple of things to quicken our bats."
West Springfield all-region pitcher Mike Kent faced off with East Carolina commit Pat Somers, Chantilly's hard throwing ace. Heading into the game, both teams knew it was going to be a battle, especially with a berth in the Virginia AAA state tournament on the line.
South County's season is over, having losing two of its last three. The Stallions lost a heartbreaking seventh inning thriller to West Springfield in the Patriot District semifinals. Meanwhile, Chantilly upset Oakton, 6-5, to win the Concorde District tournament for the first time since 1991. But immediately after the game Monday, the Chargers were focused strictly on their next opponent.
"Like everyone pitcher I've faced, I'm just going to try to make contact on every pitch," Morrisroe said on Monday. "Maybe something special will happen."