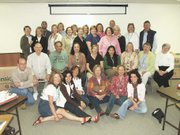 Send announcements, which are open to the public at no or minimal cost, to The Loudoun Connection, 7913 Westpark Drive, McLean, VA 22102 or e-mail to loudoun@connectionnewspapers.com. Deadline is Friday, two weeks before the event. Photos/artwork encouraged. For more information, call Jennifer Lesinski at 703-917-6454. For additional listings, visit www.connectionnewspapers.com.
On Wednesday, May 7, Senior Assistant Commonwealth's Attorney Sean Morgan was recognized by the Virginia State Police Insurance Fraud Program for his efforts in this field. Morgan was instrumental in raising the awareness level among Virginia prosecutors by assisting in the development of an educational program and serving as a panel member during a recent training where more than 700 Virginia prosecutors attended.
Kenny Thayer of Sterling received the Loudoun Volunteer Services 2008 Outstanding Adult Volunteer Award Tuesday, May 6, at the Board of Supervisors meeting in Leesburg.
Twelve Venturers and Advisors of Coed Venturing Crew 761 recently accomplished PADI wreck diving scuba specialization at Lake Rawlings near Petersburg, Va. Crew 761 completed the course in association with Adventure Scuba of Chantilly and the course involved specialist dive equipment and training with four dives over two days. Wreck Diver specialization counts toward the PADI Master Scuba Diver rating. In addition, Venturers accomplished open water, advanced and rescue diver certifications during the weekend Scuba trip. Crew 761 will be utilizing wreck diver specialization during its annual North Carolina wreck diving trip in May and the Underwater Habitat "hotel" expedition in the Florida Keys in July.
Pat Ramirez of Sterling has received the Siamese Cat Rescue Center's 2008 Margaret Hoppe Memorial Award for Excellence. The award honors an individual, couple or family who volunteer with the Siamese Cat Rescue Center and who exemplify the spirit of Siamese Rescue in time, compassion and effort.
Ramirez, who has been with the rescue group since 1999, serves as regional coordinator for Northern Virginia, has fostered more than 70 Siamese cats; conducts workshops for volunteers; works with public shelters; interviews potential adopters; participates in fund-raisers and serves as a member and president of the board of directors.
The Piedmont Arts Foundation named seven students as recipients of the 2008 Piedmont Arts Foundation Drama Award. Receiving an unrestricted grant is: Brigitte Thieme-Burdette of Dominion High School, Paul Burgess of Briar Woods High School, Sarah Klenk of Stone Bridge High School, Caitlin Carbone of Potomac Falls High School, Alexander Testere of Broad Run High School, Alex Beard of Potomac Falls High School, Kelly O'Grady of Potomac Falls High School.
James P. Fisher, Esq. was appointed to one of two positions reserved for lawyers on the Judicial Inquiry and Review Commission. The seven-member statewide commission is constituted from three Judges, two lawyers and two citizen members who must each be elected by both houses of the General Assembly. The commission adjudicates complaints and ethics related matters brought against Virginia judges and has statewide jurisdiction.
Fisher was a former town attorney for Warrenton and now serves as Chief Deputy Commonwealth's Attorney for Loudoun County.
More like this story