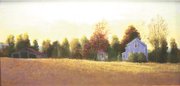 Send announcements, which are open to the public at no or minimal cost, to The Loudoun Connection, 7913 Westpark Drive, McLean, VA 22102 or e-mail to loudoun@connectionnewspapers.com. Deadline is Friday, two weeks before the event. Photos/artwork encouraged. For more information, call Matthew Razak at 703-917-6457. For additional entertainment listings, visit www.connectionnewspapers.com, E section.
<ro>Last Chance
<lst>New works by Trisha Adams will be on display in Gallery 222 through May 31. The solo exhibit, "Fresh Paint," will include still life and landscape paintings. The gallery is located at 222 South King St., Leesburg. Visit www.gallery222.com or 703-777-5498.
The drama department of Potomac Falls High School presents its spring musical, "Damn Yankees." Performances are May 29, 30, and 31, at 7:30 p.m. and June 1, at 2 p.m. Tickets are $7 and are available at the door. Potomac Falls High School is located at 46400 Algonkian Parkway, Sterling.
Arcola Church Worship Center, 24757 Evergreen Mills Road, Arcola will present "High Cotton" Friday, May 30 and 31, at 7 p.m. and Sunday, June 1, at 10:30 a.m. The musical concerns two families in a small Southern town in 1929 � the family of the owner of the town cotton mill and the family of one of his foremen. Free. Call 703-661-5660.
<ro>Ongoing
<lst>Photographs by Aaron Duplissey will be on display at the Cascades Library, 21030 Whitfield Place, Sterling, through June. Visit www.lcpl.lib.va.us.
Pastel art by Hope Hanes will be on display at the Ashburn Library, 43316 Hay Road, Ashburn, through June. Visit www.lcpl.liv.va.us.
A series of aerial photographs by Loudoun County photographer Jim Hanna is on exhibit at Washington Dulles International Airport through Aug. 26. The exhibit, coordinated by the Washington Metropolitan Airport Authority and Gallery 222, is the fourth in the program�s rotating series of displays. The exhibit is installed in the area beyond the security checkpoints in the Main Terminal on the Arrivals Level. Visit www.gallery222.com.
<ro>Coming Soon
<lst>Gallery 222 will present a special exhibit of selected paintings by students of the daVinci Program. Exhibit dates are June 6-27, at 222 South King St., Leesburg. The daVinci Program is an open studio for people with disabilities and is staffed with an art instructor and supplies to produce visual art. Meet the artists during First Friday Gallery Walk, June 6, from 6-9 p.m., at the opening reception at Gallery 222. Contact Gallery 222 at 703-777-5498.