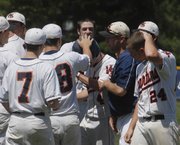 As the second-string pitcher, West Springfield sophomore Bobby Wahl had thrown brilliantly in several games, notching 12 and 11 strikeouts respectively. But that was against Hayfield and Lee, two lower-level teams and not against top-level competition.
Wahl stepped out of the shadow and into the spotlight with a commanding complete-game, two-hitter to continue the Spartans' season. West Springfield won, 1-0, over Robinson on its home field during the quarterfinals of the 16-team Northern Region tournament on a beautiful blue-skied Memorial Day.
"Bobby's matured a lot this year," said West Springfield head coach John James. "He's got the stuff where if he's commanding it, he's awfully tough."
While Wahl, who only reached three balls on one Ram hitter and had a career-high 13 strikeouts, was certainly in control throughout, the Spartans continually couldn't close the door, leaving eight batters on base through six innings.
That, however, wasn't the case in the bottom of the seventh for dramatic West Springfield, who previously had won three games in walk-off fashion, and lost at least two in the same manner.
Senior Patrick Nutbrown, batting in the No. 9 hole, led off the final frame with double to the left field line. All-region centerfielder Jeff Haeuptle beat out a subsequent bunt, leaving runners at the corners with junior Andy Stallings stepping to the plate.
With the infield in, Stallings stabbed a roller past the Robinson second baseman and shortstop to score Nutbrown, and end the game.
"They're a competitive group," James said. "They never say die. They don't go down without a fight."
Stallings had a team-high three hits in four at-bats, while Tucker Tobin and third baseman Ryan Sullivan both went 2-for-3. West Springfield had nine hits, but the combination of Robinson's Austin Freer and Michael Del Buono only relinquish six through the first six innings. The Rams had several defensive gems, turning multiple double plays.
"We felt like if we continued to put pressure on them and continued to put guys on base, at some point we were going to find holes," James said. "And we did, it just happened to be in the bottom of the seventh."
<b>ROBINSON HAD A GLIMMER</b> of an opportunity in the top of the sixth. With no outs, Ram sophomore pinch hitter Rutger Floyd blasted a seemingly surefire double to the right center. According to James, the West Springfield outfield, including Haeuptle, shifted to the right to account for Floyd's lack of power.
Haueptle pedaled back to the right, while still trailing all the way to the warning track. On a dead sprint, he made nabbed a back-handed catch to get the crucial out. West Springfield got three straight outs in the inning.
"You're not going to see too many better plays in high school than that one," James said. "We had them shifted to right shallow. It didn't surprise me in the sense that he's been making good catches and tracking balls down all year. That really provided a spark for our team."
<b>WEST SPRINGFIELD</b> (15-4) edged Langley, 5-2, in the opening round after losing 12-8 in the Patriot District championship to fellow semifinal participant Lake Braddock.
"Coach James told us that it really doesn't matter about the Patriot District championship, that we really needed to concentrate on the Northern Region championship," said junior all-region pitcher Mike Kent. "We came back and fought hard."
In the Northern Region semifinals Wednesday at Yorktown, Kent faced off with East Carolina commit Pat Somers, Chantilly's hard throwing ace. Kent and Somers are both all-region pitchers. The result was too late for this edition.
Robinson (13-11) ended Yorktown's 17-game winning streak in the opening round with a 5-0 victory to earn the second round home game.
"We love coming back in the seventh inning," Kent said on Monday. "We usually don't get it done in the first couple, but come the seventh, we're ready to go."