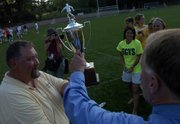 With a resume that includes 421 wins, 4 state titles, 10 district titles, as well as being named Virginia High School Coaches Association Coach of the Year three times, National High School Athletic Coaches Association National Coach of the Year in 2005, and being named to the Virginia High School League (VHSL) Hall of Fame Class of 2008, one might think adding a 10th Northern Region Championship may go unnoticed by Robinson head coach Jim Rike, a 26-year veteran of the position.
That, however, is not the case.
"When you get to the point where you are in my career, these become special because you don't know how many more you are going to get, I'm just proud of the girls," said Rike, fighting back tears.
On Thursday, Rike's induction into the Hall of Fame was announced and on Friday his worthiness was again proved as his Rams scored early and were never truly threatened by Westfield in the Northern Region Championship played at Yorktown, beating the Bulldogs for the third time this season by a 2-1 mark.
With just a little over six minutes expired in the game, Robinson found the net and did not look back. Sophomore Jensen Smith lofted a cross from the right side of the goal box and junior LeighAnne Baxter leapt to get her head on the ball and drive it off Westfield senior goalkeeper Brooke Fremeau's hands into the left side of the goal.
"It was big to score first because it got our momentum going and we just kept pressuring from there and did what we had to do," said Baxter.
The Rams struck again early in the second half as Baxter put a free kick on target with a ball too much for Fremeau to handle cleanly and sophomore Audrey Berry was there to take advantage of the opportunity, burying the ball in the net, putting Robinson up 2-0.
The Bulldogs found some momentum in the second half, getting a fortunate bounce as the ball deflected off a Robinson defender, resulting in an own goal, cutting the deficit in half. Westfield continued to apply pressure, with senior Bo Visavakul striking the high left post of the goal with a shot and a couple of quality corner kick attempts down the stretch but it was not enough.
"We just rededicated ourselves to our passing game. The kids responded well. We had a great second half, had some chances, Robinson just played better," said Westfield head coach Chris Godart.
Next up for both teams is the VHSL AAA state championship tournament that kicks off on Tuesday. The Bulldogs will face the champions of the Eastern Region Cox High School in Virginia Beach. Rike will attempt to lead his Rams to a fifth state title by hosting the Eastern Region runner-up First Colonial High School.