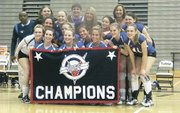 Following a routine win over Lee on Sept. 15, Chantilly volleyball coach Charles Ezigbo dipped into his bag of clichés. "We try to stay under the radar, and we try to be competitive in every match that we have in front of us," he said.
It's a strategy that has worked well for Chantilly, an area powerhouse with a record of 22-1. Not only have the Chargers been competitive — 67-6 in games this season — but at times they've been downright dominant.
The Chargers had lost only one game since Sept. 22 until the Bulldogs took Game 2 from them Thursday night at Westfield High School.
Ezigbo's team wasn't fazed. Chantilly battled back to take Games 3 and 4 by scores of 25-18 and 25-22.
But after the team's 3-1 win over Westfield to claim its first Concorde District title since 2004, there's no more flying under the radar for Ezigbo and his Chargers.
"We just focused on one game, one point at a time," said Ezigbo, digging deeper and deeper into the bag. "We got ourselves in a little hole at one point and it was just their competitive drive to get out of it."
The Chargers, who reached the Virginia AAA state playoffs last season, have been powered by a talented junior class this fall. Ezigbo started only one senior (Jessica Cooper) against Westfield and received important contributions from juniors Samantha Reeves (12 kills), Allison Williams (nine kills) and Jamie Gorman (six kills).
Despite two 3-0 losses to Chantilly earlier this season, Westfield attacked the Chargers behind Concorde District Player of the Year Sammy Spees (14 kills, 10 digs, two aces), Kat Lanigan (28 assists) and Kelly Murray (eight kills, three blocks).
But against a district rival, Chantilly didn't let one lost game develop into something more.
"You never want to lose a game," Williams said, "but I think it was good to re-focus us and it really showed us how much we wanted it."
Chantilly will face Herndon in the Northern Region semifinals Thursday night at 6 p.m. at Centreville High School.