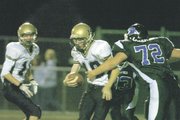 The Broad Run High football team will conclude the regular season this Friday night with a Dulles District game at rival Park View. The Spartans enter the game with a perfect 9-0 record. They are coming off last Friday night's 44-22 district home win over Freedom. Broad Run, following its meeting against Park View (3-6), will set its sights on next week's Region II playoffs where it will likely play either district foe Loudoun County or Louisa County out of the Jefferson District.
Broad Run coach, Mike Burnett, said his team will not be looking past Park View to the playoffs. Broad Run had lost to Park View in 15 straight meetings before defeating the Patriots in last year's week 10 meeting. As it happened, the two teams met again in a playoff meeting the following week, a game won by Park View.
Park View, coming off a 41-14 district loss at Heritage last week, will be looking to tarnish Broad Run's perfect season. Last year, the Spartans went 10-0 in the regular season and are one win away from doing the same this season.
"Park View's a big game for us for a lot of reasons," Burnett said. "It's a big rivalry game for us and these kids lost to them last year [in the playoffs]."
Broad Run jumped out in front of Freedom last week, 23-7, in the first quarter and led 30-7 at half.
"I thought we played well," Burnett said. "Our starters played really well when they were in. Freedom's a good team."
<b>POTOMAC FALLS</b> bounced back in a big way from its first loss two weeks ago by defeating Briar Woods, 42-27, last Friday night. The Dulles District game took place at Potomac Falls.
The playoff-bound Panthers (8-1) had suffered a tough 38-0 home loss to Broad Run Oct. 24. It was Potomac Falls' first loss of the season. But the Panthers overcame that setback with their big win over a tough Briar Woods team (7-2).
The visiting Falcons, who are in the hunt for a playoff spot, led 13-7 after one quarter and 20-14 at the half. But Potomac Falls scored two touchdowns in both the third and fourth quarters to overcome the deficit and break the game open.
Potomac Falls running back Michael Baker had a huge game, rushing for 297 yards and three second-half touchdowns. Panther quarterback Greg Woodlief tossed a touchdown pass, a 44-yard scoring strike to Chad MicMichael to open the game's scoring.
Briar Woods running back Essray Taliaferro rushed for 99 yards and two touchdowns. Billy McDonald also ran for a score for the Falcons. Briar Woods' defense also accounted for a touchdown, thanks to a 41-yard interception return by Jeremy Gray for the Falcons' first touchdown.
Potomac Falls closes out the regular season at Dominion this Friday night. The Titans lost to Loudoun County, 26-6, last week. Briar Woods, meanwhile, will wrap up its schedule at Freedom.
<b>STONE BRIDGE HIGH</b>(10-0) will host Jefferson in a Northern Region Division 5 first-round playoff game this Friday night. The Bulldogs wrapped up a perfect 10-0 regular season by defeating visiting W.T. Woodson last Friday night, 42-14, a victory that clinched the Liberty District regular season title for Stone Bridge.
Daniel Allen, Stone Bridge's talented running back, rushed for 183 yards on 17 carries. He scored on touchdown runs of 58 and 30 yards out.
Stone Bridge led the 7-3 Cavaliers 14-0 after one quarter and 28-7 at the half. Stone Bridge was playing without injured starting quarterback Patrick Thompson.
Stone Bridge, the defending state AAA champion, will look to continue its stellar play in the postseason. Other Division 5 region playoff games this week include No. 8 seed Lee at top seed Edison; No. 6 Washington-Lee at No. 3 Mount Vernon; and No. 5 Yorktown at No. 4 Madison. Stone Bridge is a No. 2 seed, while its opponent Jefferson is the No. 7 seed. Chances are real good that Edison and Stone Bridge will meet in the region finals down the road.