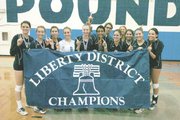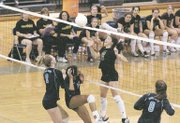 Sarah Norton, a leader and senior member of the Stone Bridge High girls' volleyball team, never once believed her team was going to lose its Liberty District tournament finals match against Langley last week. She and her Bulldog teammates even kept the faith after falling behind two games to none in the best-of-five championship.
Sure enough, Stone Bridge, the No. 1-seed of the tournament, came storming back against No. 2 Langley and defeated the Saxons, three games to two (19-25, 20-25, 25-15, 25-21 and 15-12). The incredible, action-packed competition, in which both teams played at a soaring level, took place on Oct. 30 at Stone Bridge in Ashburn. A large, vocal and enthusiastic crowd was on-hand for the district's biggest match of the season.
"We kind of had confidence the whole way," said Norton, a middle hitter who was one of six players to be named to the all-tournament team following the conclusion of the title match. "Deep down, we knew we could win it. We had so much energy at the end."
The Bulldogs needed every bit of their belief and energy in order to come away victorious after losing the first two games to the same Saxons' team they had defeated a week earlier with the season's regular season title on the line. Langley, in the hard-fought tournament title match, hardly gave anything away as both rivals played at an intense, fever pitch as the night's action moved towards its climatic conclusion.
<b>IN THE FIFTH</b> and deciding game, Langley built a 6-4 lead before Stone Bridge scored six of the next seven points to take a 10-7 advantage, prompting a timeout by the Saxons as the Stone Bridge faithful roared their approval. But the Saxons were not finished and battled back to tie the game at 11, only to see the Bulldogs score the next two points to go up 13-11. Then, following another timeout, Langley could not return Christine Beckham's serve and trailed 14-11.
Moments later, after the Saxons had pulled within 14-12, Norton hit a soft winner across the net and onto the Saxons' open floor for the winning point. That set off a victorious on-court celebration by the Bulldogs.
"It was rough being down by two [games], but I never lost faith in the girls," said Stone Bridge coach Jill Raschiatore, recently named the district coach of the year. "It's such a game of momentum and Langley is so tough. They have so many options and it's tough to block [their hits]."
Raschiatore said her team, when it trailed 2-0, focused on working hard to ultimately set up a fifth and deciding game. She said her team gained confidence and momentum during the second game when, trailing 19-8, the Bulldogs fought back to get within 24-20 before losing. That late charge helped the home team to get on a roll the remainder of the night.
<b>LANGLEY COACH</b> Susan Shifflett said the Saxons struggled against Stone Bridge's potent serving during the final three games.
"Our serve receiving just went to heck in the third, fourth and fifth games," said Shifflett. "There was a lack of focus. We became too comfortable [ahead 2-0]. They served tough and it took its toll on us."
Shifflett said she told her team afterwards to be sad for a night, but then get ready to move on. Both Langley and Stone Bridge are expected to be solid contenders at this week's 16-team Northern Region tournament.
During postgame ceremonies, Stone Bridge was awarded the district championship trophy, which 12th graders Norton and Lily Vera accepted on behalf of their team.
The six-member all-tournament team was also announced following the match. The following girls were named to the elite squad: Katherine Davis (McLean High), Elysse Richardson (Langley), Logan Sebastian (Langley), Christine Beckham (Stone Bridge), Sarah Norton (Stone Bridge) and Lily Vera (Stone Bridge).