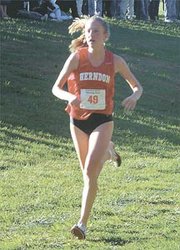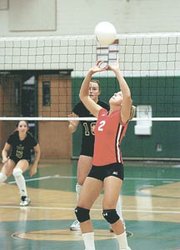 The Oakton High boys</b>' cross country team captured the team title at the Northern Region championships meet held on the afternoon of Oct. 30 at Burke Lake Park.
Oakton captured the championship with 63 points, ahead of second place Robinson, third place Jefferson and fourth place Lake Braddock. All four teams will compete at this Saturday's state AAA championships, set to take place at Great Meadows in The Plains.
Oakton was led by junior Andrew McCullen, who finished third overall in the boys' race. Also for Oakton, senior Neal Hendricks (6th place) earned a top 15 medal. The champion Cougars also received solid races from junior Patrick Fulghum (16th place), senior Dante Morales (23rd), senior Chris Weil (27th), senior Karlan Cruz (30th) and junior Matt Woodhouse (37th).
On the girls' side, the Oakton girls finished a strong second in the team standings at regionals. Thomas Jefferson High was the team champion. The other three teams who earned state bids were the second place Cougars, third place Robinson and fourth place Lake Braddock.
Oakton's top finisher was senior Becca Kassabian, who was sixth overall. Teammate Lanie Smith, a junior, also earned a medal with her ninth place finish. The Cougars also received solid runs from juniors Alison Gregor (25th) and Kathryn Berlin (27th), and senior Kelly Jones (42nd).
<b>LAST YEAR'S GIRLS'</b> region team champion, Herndon, finished seventh at last week's championships.
"It's very disappointing," said Herndon coach Pete Sherry. "Last year we won it and I thought we would definitely finish in the top four and maybe win it again."
Herndon's Carolyn Hennessey, a sophomore, was the top finisher for the Hornets. Hennessey finished 10th overall, earning her a top 15 medal, with a time of 18 minutes, 14 seconds. Herndon's next two top finishers were senior Hiruni Wijayaratne (24th overall) and senior Jessica Wilds (36th).
"Her goal was to get into the top 15 and she did her job," said Sherry, of Hennessey's solid run. "She was aggressive and the only one to step up and run better than the week before."
Herndon, two weeks ago, finished second overall at the Concorde District championships. Wijayaratne finished third overall at districts and Hennessey was fifth.
<b>THE HERNDON BOYS</b> finished sixth overall at the region meet, a nice surprise for coach Sherry, who earlier this season did not envision the Hornets doing that well.
The team had a terrific race from senior Todd Van Luling, who was ninth overall and earned a medal. Teammate Jack Jasper, a junior, also broke into the top 15 with a 12th place finish.
Sherry said he believes Van Luling can earn another medal at states. A top 15 finish there would earn him all-state recognition.
"Top 15, that's his goal," said Sherry. "This is his first time at states. That was his goal and he achieved it."
South Lakes' top boys' finisher at regionals was sophomore Will Sickenberger, who finished 64th overall in the large region field of runners.
<b>THE HERNDON HIGH</b>girls' volleyball team defeated South County in five games on Monday night in a first round match of the 16-team Northern Region tournament. The competition took place at South County High School in Lorton.
The Stallions entered regionals as the top seed from their Patriot District, while Herndon was the No. 4 seed from the Concorde District. The Hornets won the match, three games to two, by the following scores: 25-22, 19-25, 25-18, 16-25 and 16-14.
With the win, Herndon (17-4 overall record) was scheduled to meet Liberty District No. 2 seed Langley in a quarterfinals round match on Tuesday (Election Day).
At last week's Concorde District tournament, Herndon defeated Robinson in a first round match. By doing so, the Hornets earned an automatic seeding for this week's regionals tourney. Following the victory over Robinson, Herndon lost to region power Chantilly in the district semifinals in three games. The Hornets, despite being swept by the Chargers, played Chantilly tough, losing one game by a 22-25 score and another by a 25-27 score. During a regular season meeting between the two teams earlier this fall, Chantilly had won much more decisively.
"We played them better [last week in the playoff meeting] than we have in the past," said Herndon coach Pat Smith. "Chantilly plays a tough game, they are strong and tall."
Smith said the Hornets played Chantilly pretty much even with the exception of the Chargers' potent serving. Chantilly had eight service aces in the match, compared to one for Herndon.
"Give Chantilly credit, their eight serving aces was probably the difference," said Smith. "They served much tougher than we did."
Smith said that, even in defeat, Herndon came out of the district semifinals match feeling confident about its chances of defeating the Chargers should the two teams meet for a third time this season in a region semifinals meeting. Chantilly defeated T.C. Williams in a first round region match on Monday.
Despite having such a good win-loss record this season, Herndon did not have any of its players selected to the All-Concorde District First Team. Two Hornets made second team, however. Those players were junior middle blocker Steph Drahozal and senior libero Emily Jones. Also, senior setter Mandy Roth made honorable mention. She was also the lone Herndon player named to the all-district tournament team.
Smith was disappointed more of her players were not recognized in all-district honors. She said her team might have been hurt in the selection process by the fact that the Hornets do not have any true star players and play unselfishly and well as a team. All-district teams are selected by the coaches.
"We're not a one-horse team," said Smith. "Across the board, we play as a team."
It is not the first time Herndon has been overlooked in all-district selections. A few years ago when the Hornets went 16-1, none of the team's players made first team all-district.
Maybe the slight will motivate the Hornets at regionals.