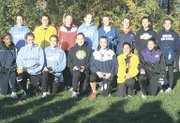 Langley High senior cross country runner Lauren Shaw finished fourth overall at last week's Northern Region championships. Both the girls' and boys' races took place at Burke Lake Park on the afternoon of Oct. 30.
Shaw, with her fourth place finish (18:01), earned a top 15 individual medal and will advance to this Saturday's state AAA championships set to take place at Great Meadows in The Plains.
As a team, the Langley girls finished 11th overall out of 16 teams. Thomas Jefferson High was the team champion. The other three teams who earned state bids were second place Oakton, third place Robinson and fourth place Lake Braddock.
Oakton's top finisher was senior Becca Kassabian, who was sixth overall. Teammate Lanie Smith, a junior, also earned a medal with her ninth place finish. The Cougars also received solid runs from juniors Alison Gregor (25th) and Kathryn Berlin (27th), and senior Kelly Jones (42nd).
Madison High senior Brigid Byrne was 48th overall to lead the Warhawks.
On the boys' side, none of the local teams (Langley, McLean, Madison or Marshall) finished among the team leaders at regionals, with the exception of team champion Oakton. Langley's top finisher was junior Tommy Bylund (39th overall). Meanwhile, senior Joe Thompson of McLean High finished 43rd overall, and Madison sophomore Matt Sollinger was 51st.
Oakton captured the boys' team title with 63 points, ahead of second place Robinson, third place Jefferson and fourth place Lake Braddock. All four teams will compete at states this week.
Oakton was led by junior Andrew McCullen, who finished third overall in the boys' race. Also for Oakton, senior Neal Hendricks (6th place) earned a top 15 medal. The champion Cougars also received solid races from junior Patrick Fulghum (16th place), senior Dante Morales (23rd), senior Chris Weil (27th), senior Karlan Cruz (30th) and junior Matt Woodhouse (37th).