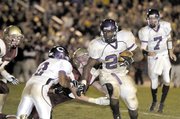 With 15 wins between them, the Westfield and Chantilly football teams have cemented their spots near the top of the Northern Region Division 6 playoff picture.
The second-seeded Bulldogs and No. 3 seed Chargers will face No. 7 Herndon (6-4) and No. 6 Annandale (7-3), respectively, on Friday, with the winners advancing to the region quarterfinals.
More than two weeks ago, Westfield (8-2) suffered its first loss since Nov. 25, 2006, dropping a 29-28 decision to Herndon in double overtime. The Bulldogs dropped their subsequent game, 30-18, at home to top-seeded Oakton and nipped Centreville in a shootout, 58-40, one week ago.
Chantilly (7-3), on the other hand, had won three straight before falling to Edison last Friday, 20-17.
"The challenge for us is going to be against [Annandale's] defensive line," Lalli said. "For us, we're going to have to minimize their penetration so we can get our running game going."
"We have to focus on what's at hand," added Westfield coach Tom Verbanic. "This is a team that beat [us] and you don't get these chances to play a team again that beat you."
If Chantilly hopes to stop the red-hot Annandale Atoms, who've won five straight after a 2-3 start, the Chargers know that the path to success runs right through dual-threat quarterback Cason Kynes (1,934 passing yards, 791 rushing yards and 28 total touchdowns).
<b>PART OF THE BURDEN</b> of stopping Kynes will fall on running back Torrian Pace, who can keep Annandale's playmaker on the bench by continuing to pile up yardage like he has all season. Pace has rushed for 1,522 yards and 21 touchdowns this fall, including 31 carries for 212 yards (6.8 avg.) and two touchdowns during last week's loss to Edison.
"We just can't make any mistakes or take a play off," Pace said. "We're known for having sustained drives, and it's important because Cason Kynes is a very good player and he can hurt us."
Like Chantilly, Westfield has relied on a power running game this season, riding senior Jordan Anderson 179 times for 1,516 yards (8.5 avg.) and 21 touchdowns.
In the loss to Herndon, junior quarterback Danny Fenyak threw three interceptions as the Bulldogs' two-point conversion in the second overtime fell incomplete. But after last week's 310-yard, five-touchdown performance, the signal caller should be operating with a difference confidence level.
"For us, we're not good enough to overcome three turnovers like that," said Verbanic, whose team went 15-0 last season and won the Virginia AAA state title. "We just have to take care of the ball, get first downs, and we'll be OK."