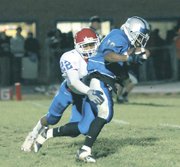 Forgive West Potomac coach Eric Henderson if he's a bit dizzy from the roller coaster of a season he just completed following his team's 34-22 win over Alexandria rival T.C. Williams last Friday.
Henderson and the Wolverines began the year as one of the area's hottest teams, winning five straight to begin the season, only to see their once-certain playoff hopes go down the drain amidst four consecutive losses.
The win over the Titans provided some consolation as West Potomac secured a 6-4 record, a year after making the Division Six semifinals with a 7-3 regular season.
Looking back in retrospect after his team just missed out on the eighth and final Division Six playoff spot, Henderson knew exactly what the difference was between the winning streak to start the year and the losing streak that marred it.
"We weren't very big and we weren't very strong," Henderson said bluntly. "And I don't know if we were getting any better during that five-game (winning) streak, and without a doubt, we had the tougher part of our schedule at the end of the season."
The Wolverines faced three Division Six playoff squads (West Springfield, South County, and Annandale) in their last five games and lost all three. The issues came to a head in a 48-13 loss to West Springfield, when West Potomac committed a whopping 13 turnovers. Then, the season bottomed out in a 38-0 beat down courtesy of South County three weeks ago.
But after the demoralizing loss to South County, the Wolverines and their coaching staff began to regroup. Changes were made in personnel, most notably allowing star wide receiver Kristian Rodriguez to play both ways. The senior responded with a memorable final performance, catching two touchdown passes on offense and intercepting three passes on defense.
"We're kind of kicking ourselves for not moving him (to defense) sooner," said Henderson.
Perhaps the most confusing part of West Potomac's season was the play of its offense. Early on, it looked as if the Wolverines had the makings of an offensive machine, as senior quarterback Cole Walter racked up yardage and touchdown passes throwing to a talented receiving corps.
In West Potomac's six wins this year, the team averaged more than 31 points per game. In its four losses, though, the offense mustered just 17.
But despite its inconsistencies, the statistics of West Potomac's offensive weapons turned out to be truly remarkable. Rodriguez led the charge with more than 1,000 receiving yards and 18 touchdowns, including four games with at least three touchdowns.
Henderson said he thinks Rodriguez's strong season will get him a scholarship with a Division-I college football.
"He's really focused on playing at the next level," said Henderson, adding that requests from college coaches for Rodriguez's game film have increased in recent weeks.
Junior Shawn Lee and senior Will Rosenkrantz rounded out a very solid set of receivers that Henderson said will be "tough to replace."
Like the team, senior quarterback Cole Walter had ups and downs over the course of his second season starting under center. Walter finished with more than 2,500 yards passing and threw for 29 touchdowns, but also had the occasional hiccup with 17 interceptions.
Although much of its firepower will be gone next fall, Henderson said he takes solace in the fact that many of his offensive linemen are underclassmen with plenty of room to improve. He just hopes most of the growing pains are out of the way now.
"We're on firm footing for next couple years, it's just gonna take great effort and guys can't put the ball on the shelf until August," said Henderson.