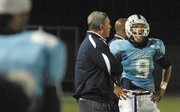 The Yorktown Patriots trudged to their makeshift locker room within the Washington-Lee cafeteria in more than just unfamiliar territory. Down 7-0 at halftime to a rival the Patriots hadn't lost to since 1982, there was a sense that drastic times called for drastic measures.
That's when Yorktown's star offensive threat, senior Kyle Toulouse, asked coach Bruce Hanson to remove him from under center, where he had been playing quarterback the entire first half.
"We weren't in a rhythm, so I told them to put me at fullback and the rest is history," said Toulouse.
By the rest, Toulouse means the 164 total yards he compiled in the second half, scoring two touchdowns, while leading his Patriots to a come-from-behind 21-14 victory, to extend their winning streak to 27 over Washington-Lee.
"It was Kyle's decision to go to fullback, but I'm going to take credit for it," Hanson said jokingly of Toulouse, who has lined up at every offensive position but the line and plays in the secondary on defense. "Sometimes, the trouble when you play a kid at multiple positions like that is where are you going to play him?"
Moving Toulouse paid almost instant dividends for the Patriots (6-4 overall, 4-2 district), who failed to earn a single first down in the first half. On Yorktown's opening possession of the second half, the Patriots marched down the field on a 15-play, 88-yard drive to even the score at 7-7. It was more yards than they had the entire game up to that point.
But Washington-Lee (5-5, 3-3) would not back down, not after gaining so much confidence a year ago when it lost to Yorktown, 13-7. The Generals came right back thanks to a Toulouse fumble that was recovered by cornerback Robbie Hemstreet.
Three plays later, wide receiver Karl Lendenmann made a diving 39-yard catch that set up a two-yard touchdown run by senior Keith Johnson to give the Generals the lead once again, 14-7.
That's when Toulouse took matters into his own hands. To make up for the fumble, he burst for a 50-yard run down the sideline and then threw a touchdown pass to wide receiver Mike Veith on a designed running back pass with under nine minutes remaining in the fourth quarter.
To cap off the comeback, Sam Nottingham, who took Toulouse's place under center in the second half, connected on a 30-yard pass to Veith that set up a 1-yard touchdown plunge by senior Jared Smith that gave Yorktown a 21-14 lead that it never relinquished.
AFTER W-L's last ditch effort fell short, coach Josh Shapiro could only shake his head at just how close his Generals had come to finally getting that giant monkey off their backs.
"We've closed the gap," said Shapiro of what had been a series full of Yorktown blowouts in the past. "They know we're for real now."
Both teams now move onto the Division Five AAA playoffs, which begin next Friday. W-L will likely travel to face Mount Vernon, a team it lost to by just two points earlier this season. This is the Generals' first playoff appearance since 1975.
Yorktown will likely match up with Madison, who they beat back in September. But for Hanson and the Patriots, the postseason can wait. They're content to bask in the glow of the best comeback in Hanson's 24 years coaching in this Arlington rivalry.
"That was our championship," said Hanson, who remains undefeated against W-L. "We're the Arlington County champions."