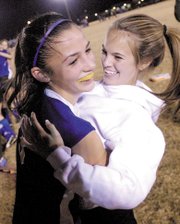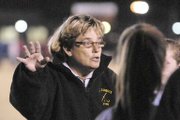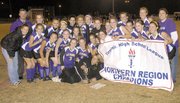 Fielding questions after her team's latest conquest, a 2-0 victory over Westfield to claim the Northern Region title, Lake Braddock field hockey coach Diane Miller ended every answer in the exact same way.
"I'm just happy for the kids," she said.
In her 28th year of work at the school on Burke Lake Road, Miller has been happy for thousands of "kids." Affectionately referred to as Coach "O" or simply just "O," Miller drew the loudest ovation Wednesday, Nov. 5., as she accepted the championship trophy from Lake Braddock principal David Thomas.
The win over Westfield marked the seventh time one of Miller's teams has held the region trophy, but one piece of hardware has eluded her — a Virginia AAA state championship.
"We can prove to her that this is what we've been working for," said senior forward Annmarie Gambescia, who scored two minutes into the second half against Westfield. "I just wanted it so bad for her."
As the Bruins (22-1) travel to Virginia Beach for this weekend's state tournament, the current Lake Braddock team would like nothing more than to become the one squad that won a state title for Miller.
"After the game, they said they wanted to win the region and go to the state tournament," said Miller, whose team will face Maggie Walker Governor's School (Central Region runner-up) on Thursday at 3 p.m. "They realized those goals and what happens [at states] … who knows. We're just glad to be going."
Forget the state playoffs, the Bruins were starting to fret about just getting to the Northern Region title game. They had suffered second-round exits during each of the past three years. The team last made a title game appearance when it lost to Woodson in 2002.
But Miller has coached every sort of team. She's had the talented, how-can-they-not-win-it types as well as scrappy groups that did it with hard work. Eighteen of her 27 teams have won district titles, though this year's group suffered the loss that may well propel it into that state title game.
<b>CRUISING ALONG</b> with a perfect 18-0 record, Miller's team began to get complacent. Lake Braddock faced a Patriot District semifinal matchup with Annandale on Oct. 21 and the Atoms stunned the Bruins, 2-0.
"It probably was the best thing that happened to us," Miller said. "I hate to say that because you want to win as many championships as you can, but in hindsight, that probably was a good thing."
"It made us realize that we're not indestructible," said senior midfielder Katie Klatt, who scored her seventh goal of the season — on a penalty stroke — against Westfield to stake the Bruins to a 2-0 lead. "We had to go into each game thinking it was the championship."
Like it has been trained to do, Lake Braddock just kept on running. A three-game jaunt through the region produced wins over Chantilly, Woodson and, finally, Annandale before the Bruins turned back Westfield last Wednesday.
And that leads to the paradox driving this relationship between a coach and her players. A taskmaster at practice, Miller has not only earned her players' respect but their admiration, too.
Miller has built a dynasty at Lake Braddock with relentless off-season conditioning. Every year since 1992, Miller's team has traveled to North Carolina for a series intense preseason workouts. The players run nearly 40 miles during the weeklong trip, but nobody ever complains.
When asked to identify one trait common throughout every Lake Braddock team she has seen, Leah Conte, who in four years has built her own successful field hockey program at South County, didn't hesitate.
"They love to play for Miller," said Conte, whose team finished 18-4 this season and claimed its first-ever Patriot District title. "They love her and they respect her. But the biggest thing is that they play hard for her and it shows."