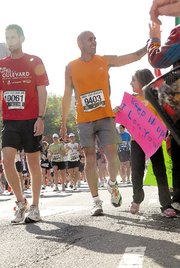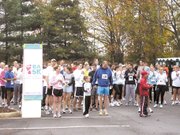 It was 1976 and 11-year-old Alexandria native Jim McGrath was having his first of many encounters with the marathon.
He had just watched American runner Frank Shorter get the silver medal in the marathon event at the 1976 Olympic Games in Montreal, four years after Shorter had become the first American to win the event at the 1972 games in Moscow.
Simply put, the prospect of running for sport had been transmitted into his living room.
"It was the first time anyone knew an American who had run and it was the first time it was ever on television," said McGrath. "That was a big moment."
Inspired by his new Olympic hero, McGrath went out and bought his first pair of running shoes and "started jogging down Duke Street" as a new way to stay in shape. A short time after that, he started running his own races, finishing the Marine Corps Marathon in four hours and forty-four minutes as a 13-year-old.
Thirty years later the phenomenon that got McGrath hooked is still around and stronger than ever in the Alexandria area. Last spring the May 2008 issue of Running Times Magazine concluded that Alexandria was the top marathon city in the United States based on race finishers per 1,000 residents.
<b>IT'S SURPRISING</b> to some when the notion of Alexandria being one of this country's pre-eminent running cities is brought up since common sense says a place with nice weather year-round would be more conducive to such activities.
But the list of towns considered marathon havens is littered with much more northern cities like Ann Arbor, Mich., Minneapolis, and Portland, Ore. It turns out there are a number of factors that contribute to the popularity of running and this area appears to have a near-perfect confluence of them all.
Just last Saturday morning more than 300 people came out despite overcast skies at Cameron Run Regional Park for the Biliary Artesia (BA) 5K. Many there had run in marathons before and were simply out to get their legs moving after a long week at a desk or to keep up with a legacy of weekend runs.
"It kind of keeps my life in order," said Arlington resident Jesse Johnson, who finished first in the BA 5K. "I think in general (this area) just has a lot of type A personalities that like to keep fit."
"I grew up in a family where my dad was always doing marathons," said Alexandria resident Jenny Goransson, who ran in her fourth marathon three weeks ago at the Marine Corps Marathon. "I always thought he was crazy, but then I ran track in high school and college and when I graduated college I said I was going to give it a try. I thought I'd just do one, but then I really loved it."
Aside from getting exercise, Alexandria's affluence also plays a large role in how popular running has become over the years. Generally speaking, people in the upper middle class of America are the ones that have the time and the money to spend running for exercise.
According to Chris Farley, owner of Pacers Running Stores, the blend of wealth and the importance placed on exercise in the area is what draws many into the marathoning scene.
"I think it's really part of the culture, and we see it in our business, it starts at an early age," said Farley. "Meshed with that fact that Alexandria is an area where people are very educated, upper middle class, those people are the ones who have the opportunities to run. "
Farley also points to the sheer amount of events that take place throughout the area every weekend. His store sponsors events as small as the BA 5K and as large as the annual George Washington Parkway Classic and Potomac River Run Marathon, and is out in the community almost every weekend putting on races.
In addition, Pacers has their own running club that meets almost every day of the week. According to the company's event coordinator, Kathy Dalby, a runner in the club can take part in up to 21 training sessions throughout the week and their club sees as many as 700 runners participate in at least one session a week.
"It's really a great social activity, especially in such a transient area," said Dalby. "It's such an inclusive sport. Running, you can be as slow as molasses and still be okay in a race."
Many of the area's running clubs are designed to train participants for the area's most well-known race, the Marine Corps Marathon held every October. Many of the runners in these clubs originally sign up just to stay in shape, but end up taking a much more vested interest.
"You see other people doing it, and you're like if that girl can do it, I can do it," said Alexandria native Judy Abid after finishing the BA 5K last weekend.
<b>THE PHENOMENON</b> of marathons in this area doesn't seem to be slowing down, either. According to Dalby, Pacers has seen a 35 percent increase in participants for its No. 1 race — the GW Parkway Classic — just in the last three years.
Although that race is only 10 miles, it's viewed as one of the big tune-ups for the Marine Corps Marathon. This year's Marine Corps race had more than 650 finishers who listed their hometown as Alexandria.
The Potomac River Run Marathon, held in Alexandria every May, has seen its participation numbers more than double since the race began in 2003. Race director Jay Wind said registration and interest is up so much for this year's event that 40 people (more than five percent of last year's total participation) signed up the first day possible.
And Farley thinks even the tough economic times this country is going through won't slow down the city's burgeoning infatuation with running.
"We've maybe seen some flattening out on the retail side, but with the races people are still signing up for the races," said Farley. "So regardless of what the economy is doing, people still have a great outlet."
Now a 43-year-old teacher in Hampton, Va., McGrath thinks it makes perfect sense that Alexandria has evolved into such a marathon city considering "one of the biggest is right in our backyard."
A Bishop Ireton graduate back in 1982, running has remained a central component of McGrath's life ever since he purchased that first pair of shoes. He coached cross-country and track and field at his high school alma mater from 1987-1989, 1991-1995, and in 2002 and has watched as an Olympic novelty transformed into one of Alexandria's favorite past times.
"I'm definitely proud because (my friends and I) were definitely running during the early stages of it," said McGrath. "It just stuck in Alexandria for some reason."