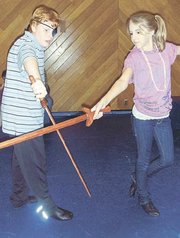 Take a princess, a knight, a dragon and an evil sorcerer, add some talented students and the result is "Stefanie Hero," the newest production from Rocky Run Middle School.
Show times are Friday, Nov. 21, at 7:30 p.m., and Saturday, Nov. 22, at 2:30 and 7:30 p.m., in the little theater. Tickets are $7 at the door and during the prior week's school lunchtimes.
Directed by Julie Wharton, this comedy adventure was written by Mark Medoff, author of "Children of a Lesser God." It's the story of a princess, Stefanie, whose father left years before on a quest to prove himself a great knight and vanished. Her mother is selfish, self-absorbed and bitter.
"Stefanie has two younger brothers and a sister and, by default, she's become head of her household and the kingdom," said Wharton. "There's also an evil sorcerer who'd like to marry Stefanie and, to gain power over her, he casts a spell over her mother and siblings. So she has to go on an adventure to save them."
Along the way, she meets the Scarlet Knight and someone named Horace — who's under the sorcerer's spell, too — and both give her help. Her mission takes her to a mountaintop inhabited by a dragon, but she proves herself a capable swordswoman and ultimately triumphs on her own.
"It's fast-moving, has fun characters and we're going for comic-book theater because it has that larger-than-life, good vs. evil, action-packed, colorful quality about it," said Wharton. "And the set will reflect that; the colors and artwork are suggestive, rather than detailed and realistic."
There are 27 in the cast and crew, and the students have rehearsed every day since September. "They're a dedicated bunch and they're coming along great," said Wharton. "And Sarah Russell, a fight choreographer, worked with them on the sword fighting scenes. She's a Robinson Secondary senior who's had stage-combat training through the Shakespeare Theatre."
Wharton said the play's funny, but also inspiring. "There's a great message to it, the characters are drawn very cleverly and it's well-written," she said. "Young kids will love it, but the language is very articulate and the show has a lot of layers, so the whole family will enjoy it. It has both fantasy and realism."
Eighth-grader Carys Meyer portrays Stefanie. "She's tomboyish and has taken on all the family responsibilities," said Carys. "She's brave and not afraid of many things. She's also stubborn and set in her ways, but she wants to fall in love. It's a fun character because she's different from my personality, so it's fun to have that challenge."
As a result, said Carys, she always has to be strong and focused on her goals and "can't have any weak moments on stage." But she's pleased that Stefanie is "so outgoing and tough and can handle anything. I get to do sword fights and have a lot of attitude."
She says the show is so hilarious that the audience will laugh a lot. "But it also has some good messages in it," said Carys. "And the little kids will like the physical comedy and the grownups will like the jokes."
PLAYING LEOPOLD T. Bosco, the evil sorcerer, is eighth-grader Matt Calvert. "He's a weird kind of guy; he wants to take over the world," said Matt. "He thinks he's invincible and can do anything he wants, but he can't. He wants Princess Stefanie to be his wife, but he doesn't have the charm to win anybody over. He also wears an eye patch — not because he needs it, but to make him look more evil."
Matt says he's fun to play because, in two scenes, Bosco fights people with his finger, which has special powers. "He also casts a lot of spells and I get to make up the movements for them, so it's really creative," said Matt. Hardest, he said, is that "I have to be on an emotional rollercoaster — all over the place with my emotions and my speech. But I'm having a fun experience with this character; I like screaming and acting mean to people as a villain."
Eighth-grader Josh Lutz portrays Horace, Bosco's evil minion. "But there's a twist," said Josh. "He's not doing it because he wants to — it's because he's under a spell from [Bosco]. He's really fun to play. I get to be disfigured; I make my body all hunched and I have a speech impediment. I slur words and say things like 'fistle' instead of 'thistle.'"
Toughest, said Josh, is remembering to always have a hunchback while bending and a limp while walking. The best part? Said Josh: "Since he's an evil minion, I get to make potions and spells."
Playing the Scarlet Knight is eighth-grader Mitchell Buckley. "He's this mysterious knight who keeps popping up in places," said Mitchell. "He's always helping Stefanie and nobody knows why; he's very heroic. It takes places in medieval times, so there are a lot of fun things in the show like sword fights, a dragon and guys in dresses."
Toughest for him is the sword-fight choreography and, added Mitchell, "It's always hard pulling off that heroic type of character. But I like that he's mysterious. You know what all the other characters are, but no one understands why he's there. And I'm all in red and wear a mask and I'm always carrying a sword."
Stage managers are Emily Sakowitz and Olivia Ryder. "I make sure all the props are where the actors can get to them," said Emily. "When people forget their lines, I tell them and, if they're not at rehearsal, I say them for them. During the production, me and Olivia will make sure everyone knows what scene it is, is ready to go on stage and is quiet."
The problem, said Emily, is that "they never are quiet. Everyone really likes each other and is excited about the play, so they're talking all the time. But I like knowing all the behind-the-scenes stuff, and watching the whole play come together is cool. And it's a treat to be with these guys because they're really funny and awesome actors."