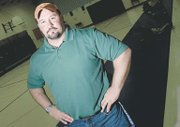 In his 10th year as a physical education teacher at Newington Forest Elementary School, Scott S. Drummond knows a lot about how to stay fit and healthy. It's a philosophy that extends beyond the school gym and into the arena of competitive powerlifting, where Drummond holds six world records. Here, he talks about work, working out and the ultimate in exercise — parenting a 2-year old.
<b>Family.
</b>My wife, Jennifer Drummond is the assistant principal at Union Mill Elementary in Clifton. I have a 2-year-old daughter, Calista Lee Drummond.
<b>Education
</b>I graduated from George Mason University with a degree in physical education and health.
<b>What was your first job?
</b>My first job was a trainer in a health club in Raleigh, N.C. at the age of 15.
<b>Hobbies, interests, activities.
</b>I spend a great deal of time training for powerlifting. I also love home projects. I recently built a deck on my house, built a movie room, built a laundry room and a full bath in our basement.
<b>How do you spend your spare time?
</b>My powerlifting expenses are paid for by my sponsor- Charles Staley, the creator of EDT (Escalating Density Training). I work with athletes on his site developing training programs and helping with training advice. That takes up a bit of my free time as well.
I also spend as much time with my wife and daughter as possible in outdoor activities such as going to the park or zoo.
<b>Favorite local restaurants.
</b>Rio Grande Cafe, Pei Wei, Sweetwater Tavern.
<b>Community concerns.
</b>Being a teacher in Fairfax County, I have concerns with the huge budget deficit that we are facing and its present and future affects on school programs, job cuts and salary issues.
<b>How did you get interested in powerlifting?
</b>I spent many years as a bodybuilder. I did pretty well winning the Mr. Virginia overall in my first competition. I've won several competitions along the way as well as being chosen AAU athlete of the year.
About three years ago, I decided to make the switch to powerlifting. I entered my first local competition and set two records.
<b>What records do you hold?
</b>My best lifts are a Raw (no equipment except weight belt and wraps) — bench press, 520 pounds; squat, 700 pounds; deadlift, 720 pounds.
I currently hold two local, 14 state and six world records in the 259-pound and 275-pound weight classes. I'm also currently ranked 23rd in the country in the squat and 21st for bench press.
I have another competition coming up at the end of February where I plan to break the single lift bench press world record in the Southern Powerlifting Federation of 515 pounds.
<b>How often do you train?
</b>I train three days a week at Gold's Gym in Manassas. I also am on my feet all day as a physical education teacher, then when I get home I chase my 2-year-old around the house.