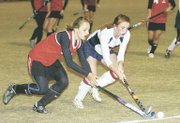 The McLean Highlanders proved to be one of the up and coming teams this season in girls' field hockey. A program which in the past has struggled to put together winning seasons went an impressive 16-5-2 this autumn and made some postseason noise.
"They put every effort into winning," said McLean coach Summer Hardman, who completed her first year at the helm of the program. "Our last game, they weren't intimidated."
It was that positive mindset that helped McLean make such a dramatic improvement. Hardman, a former collegiate player who only recently moved to the Northern Virginia area, realized from the start that she needed to get her new team to believe in its potential. And that occurred throughout the course of the season.
McLean was good enough during the regular season to earn the No. 3-seed for the Liberty District postseason tournament, where the Highlanders won two games to reach the finals before losing to Woodson in the title game. Then, at the 16-team Northern Region tournament, McLean defeated Mount Vernon, 5-0, in a first round game before falling to a talented South County team in the quarterfinals, 4-2, ending the Highlanders' surprisingly good season.
"The sky's the limit for me as far as believing in what they can do," said Hardman, of her players. "My goal for the program is to get to the state tournament. That's a lot to ask for from a program that hasn't won in four of five years [prior to this season]. Changing that whole mentality was a goal I think we reached."
Hardman saw the winning attitude even in the season-ending loss to the Stallions at regionals.
"We matched up well against South County and they have a history of a winning program," said Hardman, pleased with her team's play against South County, even in defeat.
<b>HARDMAN</b> realized it might be a special season for her team following a 2-0 win at Liberty District and area rival Langley on Oct. 16. In that game, the Highlanders shut down a good team and played with a passion and determination to win. From that point on, the Highlanders went 7-3-1 before their loss to Woodson in the district tournament championship game.
"From probably the Langley game on, I think they gained a sense of accomplishment and started to see their potential," said Hardman.
McLean will lose several of its players to graduation this upcoming June. But Hardman helped ignite a program, and those positive vibes should carry into the upcoming seasons. The coach said at least seven of her players have already committed to compete in an indoor league this summer. The most important factor to McLean's continued success, she said, will be its work ethic during the offseason.
"They saw how exciting it was to get to the [region] tournament," she said. "I think the girls' offseason training will be key to [continued success]."
Three McLean players earned First Team All-Liberty District accolades this season. They were junior forward/midfielder Olivia Applewhite, junior center midfielder Elisa Enriquez-Hesles and junior midfielder/forward Caitlin Baker. Two Highlanders made the second team – sophomore forward Jamie Bell and junior midfielder Johanna Morrison, and two were named honorable mention – junior goalie Sarah Park and junior forward/midfielder Casey Alexander.