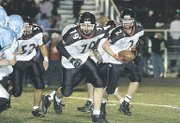 Vienna-area high school football teams Oakton and Madison both won first round Northern Region playoff games last Friday night. Oakton (11-0), the top seed of the eight-team Div. 6 (larger schools) tournament, handled visiting South County High, 30-13, in its postseason win. As a result, coach Joe Thompson's Cougars will host West Springfield High in a semifinals game this Friday night. The high-scoring Spartans, who are led by standout quarterback Bryn Renner, are coming off last week's 72-47 playoff triumph over W.T. Woodson.
"They're scary in the fact that they are so good offensively," said Thompson, of the Spartans. "They score a lot of points and pressure you to do the same."
Madison (7-4), meanwhile, opened the eight-team Div. 5 (smaller schools) playoffs with a 28-7 home win over Yorktown last week in Vienna. Next, the Warhawks are set to travel to Edison where they will take on the top seeded Eagles (11-0) in a semifinals affair. Edison is coming off a 37-7 round one win over Lee.
Madison, in its win over Yorktown last week, broke open a 7-7 halftime tie by scoring three touchdowns in the second half to eliminate coach Bruce Hanson's Patriots. Madison running back Sasha Vandalov rushed for 156 yards on 17 carries and scored a fourth quarter touchdown to lead the Warhawks. Also for Madison, running back Will Cybulski ran for two touchdowns, including a 79-yard score in the second half.
Madison's defense accounted for a touchdown as well, the result of a 103-yard interception return by senior cornerback Taylor Mead. The Warhawks' defense limited Yorktown standout running back Kyle Toulouse to 59 yards on 18 carries.
<b>OAKTON</b> continued its perfect season on into the playoffs with its decisive win over South County. First quarter touchdown runs by running back Trey Watts (10 carries, 85 yards) helped the Cougars build a 14-0 lead. The home team still held a 14-7 halftime lead before breaking the contest open with 16 third quarter points to jettison them ahead, 30-7.
"We played well in all areas of the game," said coach Thompson. "On our opening drive we scored and that gave us confidence. We got up two scores in the first quarter and that kind of settled us."
Jonathan Meadows (17 carries, 101 yards) ran for two touchdowns during the third quarter. Oakton also earned a two-point safety in the quarter as well.
Oakton quarterback Chris Coyer completed 6-of-11 passes for 75 yards and also ran for 119 yards on 15 carries.
The Cougars will have their work cut out in slowing down West Springfield and quarterback Renner, who was 20-of-31 for 273 yards passing against Woodson, while also running for two touchdowns.
Thompson is not sure it is even possible to hold the North Carolina-bound Renner completely in check.
"I haven't seen anyone do it," said Thompson. "My guess is to hold the ball [on offense] and keep it away from him. I haven't seen anyone shut him down in two years."
<b>HERNDON</b> high's football season came to an end last Friday night when the Hornets lost at Westfield, 41-22, in a first round Div. 6 playoff game.
With the loss, Herndon saw its season end at 6-5. Westfield, meanwhile, next advances to a semifinals game against Chantilly this Friday night.
Three weeks ago, Herndon celebrated its grandest moment of the season when it defeated Westfield, 29-28, on a homecoming Saturday afternoon. But the Hornets, who were 6-2 following that win, lost the following two weeks against Robinson and Oakton to close out the regular season on a down turn. Both setbacks were lopsided affairs. And Herndon could not turn things around in its playoff meeting against Westfield.
The Bulldogs (9-2)took control of the action early on by building a 14-0 first quarter lead and taking a 28-6 lead into halftime. The Hornets had no answers for stopping Westfield running back Jordan Anderson, who rushed for 279 yards and four touchdowns on 24 carries.
The senior sensation opened the game's scoring with a 65 yard touchdown run in the first quarter.
Herndon's first half touchdown came on a 63-yard scoring catch by senior Zach Leach, on a ball thrown by senior Chris Medina. Leach finished the game with four catches for 83 yards and the touchdown. Also for the Hornets, junior wide receiver Nick Impellizzeri caught five balls for 69 yards and a touchdown. His scoring catch came in the fourth quarter from 52 yards out on a pass from quarterback Zack Ozycz.
Ozycz, a junior, completed 13-of-20 passes for 144 yards and led the Hornets in rushing with 83 yards on 10 carries.
This season marked the first since 2003 in which Herndon qualified for the postseason. The '03 Herndon team also fell to Westfield in the playoffs.
<b>THE STONE BRIDGE</b> High football team won easily, 58-7, in a first round Northern Region Div. 5 playoff game over visiting Jefferson last Friday night. The defending state AAA champion Bulldogs, with the win, improved to 11-0 on the season.
Stone Bridge will host No. 4-seed Mount Vernon in a region semifinals game this Friday night in Ashburn. The Majors (9-2) were 17-10 winners over Washington-Lee in another first round playoff game last week. Mount Vernon is a member of the National District, the same district top seeded Edison is a part of.
The Bulldogs have not been seriously challenged all season long, and that continued to be the case against Jefferson, the Div. 5 tournament's No. 7 seed. Stone Bridge standout running back Daniel Allen, in limited action, rushed for 73 yards and a touchdown on nine carries. Also, sophomore back Marcus Harris ran for 105 yards on nine carries with two touchdowns. And Ryan Lowdermilk scored on a 21-yard touchdown run.
Senior quarterback John Bladel, who has been filling in for injured signal caller Patrick Thompson in recent weeks, threw touchdown passes to senior receiver Michael Prince (39-yard scoring strike) and senior Zach Thompson (12 yards). For the game, Bladel completed eight-of-17 passes for 188 yards.
Stone Bridge received special teams' touchdowns from senior Dare Ewetusa and junior Kevin Libuit.
If Stone Bridge can defeat Mount Vernon this week, there is a good chance the No. 2-seed Bulldogs will play Edison for the Div. 5 region crown the following week. Edison, a 37-7 winner over Lee last week, will take on 7-4 Madison in a semifinals game this Friday night.