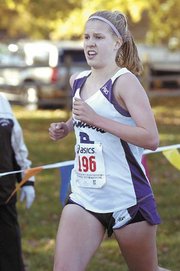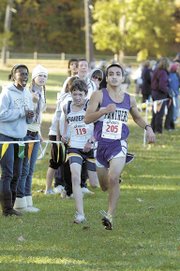 Both the Potomac Falls High boys and girls cross country teams put together strong showings at last Saturday's Virginia State AA Championships. The postseason event took place at Great Meadows in The Plains.
The boys' team earned third place in the team standings with 111 points. The Panthers, who captured the Region II championship, Oct. 30, at Oatlands Plantation in Leesburg, finished behind first place Jamestown of Williamsburg (61) and second place Blacksburg (104).
Behind the Panthers in the 16-team state field was fourth place Spotswood of Penn Laird (114) and fifth place Western Albemarle of Crozet (133).
<b>LOCALLY, DOMINION HIGH</b> finished eighth overall. The Titans' top finishers were sophomore J.T. Duke (21st overall), senior Nick Phillips (55th) and junior Nick Sharp (66th). At the recent Region II meet, Duke finished 10th overall.
Leading the charge for the Panthers was senior Josh Hardin, who finished eighth overall, in a field of 127 runners, with a time of 16 minutes flat. Also earning a top-15 medal for Potomac Falls was senior Ryan Hagen, who was 14th place overall at 16:11.
Other solid contributions for the Potomac Falls boys came from senior Brian Robinson and junior Alvaro Morales, who were 33rd and 34th overall, respectively, along with seniors Andrew Mott (56th) and Josh Berlin (68th).
<b>ON THE GIRLS'</b> side, Potomac Falls finished fifth in the state standings with 156 points. Blacksburg (47) was the team champion, while Hidden Valley of Roanoke (47), Millbrook of Winchester (101) and Brentsville of Nokesville (102) finished in the second through fourth slots.
Potomac Falls sophomore runner Melissa Saunders was the Panthers' top finisher and was 24th overall. She was followed on the team ladder by senior Shannon Brady (39th overall), freshman Kaeley Brady (41st), sophomore Rachel Hagen (48th) and junior Rachael Diniega (56th).