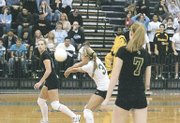 Expectations were naturally high for the Langley High girls' volleyball team this fall. The Saxons had captured the Northern Region crown in 2007 and it didn't really matter to opponents that the program had lost several players to graduation from that championship team going into the '08 campaign. Teams were going to go all-out against the defending champs.
And they did. But even so, Langley, in the year after capturing the region crown, put together a pretty nice season, going 17-7 overall and advancing to the 16-team Northern Region quarterfinals before seeing its season end with a loss to Herndon last week.
"They really did [have a good season]," said Langley coach Susan Shifflett, of her team. "They improved and met all the goals I thought they would."
The veteran coach said she was disappointed in her team's two postseason losses – its Liberty District finals setback to Stone Bridge in which the Saxons could not hold onto a two games to none lead, and the season-ending loss in three games to the Hornets at regionals.
"Once we got [to the postseason], I thought we'd do better," said Shifflett.
Throughout the fall season, the coach saw her young squad mature and gain more of a veteran presence. She hoped that would translate to the playoffs and help Langley when matches against formidable opponents came down to a few critical points. And to a point, it did.
<b>THE SAXONS</b> lost a deflating match to visiting Stone Bridge, three games to two, to close out the regular season on Oct. 23. The setback cost Langley the regular season title and top seeding for the district tournament. But Shifflett's team came back strong with district tournament wins over both Marshall and Madison to reach the finals and earn another chance to defeat Stone Bridge.
And things started off well in that Oct. 30 title match at top-seeded Stone Bridge in Ashburn as the Saxons looked nearly unbeatable over the first two games in surging ahead two games to none. But the Bulldogs stormed back with three consecutive wins, including a 15-12 win in the fifth and deciding game, to take the match and the district crown. It was a deflating loss for Langley.
Shifflett said her team's mindset changed after it had won the first two games of the evening against Stone Bridge.
"Instead of going out and being confident [for the third game], we got nervous," she said.
Even in a first round region tournament win over Stuart on Nov. 3 at Langley, Shifflett said her team experienced a little bit of the same problem when the underdog Raiders, after having lost the first two games, came back to take game three to get back into the match. Langley, however, got back in form in game four and took the match.
Shifflett said Stuart came out strong from the beginning and gave her team a good match
"We lost the third game and kind of stopped passing the ball," she said. "Then [in the fourth game] we came out and defeated them fairly easy."
But Langley saw its season end the following night when visiting Herndon defeated the Saxons in a sweep.
"They just weren't there," said Shifflett, of her squad's uncharacteristically poor match. "Herndon played well."
<b>SHIFFLETT</b> said her squad was physically talented enough to win important postseason matches, but struggled with confidence and holding onto a winning mindset at times.
"The mental part was much more difficult for us, much more fragile," said Shifflett. "It got better [over the season]."
But not enough for the Saxons to defend their title. Still, the future is bright for the Saxons, who will see most of their team back on the court next season.
Langley will lose senior standout Logan Sebastian, an outside hitter, to graduation next spring.
"Logan is obviously a big loss," said the coach.
The other two graduation losses will be Mattie Gray and Jasmine Pike.
Sebastian and junior Elysse Richardson both were recently named first team members of the All-Liberty District team. Meanwhile, sophomores Kathryn Caine and Audrey Dotson made second team, and junior Carlie Owen made honorable mention.