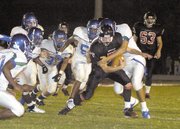 A year ago, the South Lakes High football team got a taste of the Northern Region postseason when it qualified for the Div. 5 playoffs despite a 3-7 record. The Seahawks had benefitted from an expanded playoff format that allowed eight teams to compete in the Div. 5 tournament. And even though South Lakes lost its first round playoff game at those 2007 playoffs, it had gained momentum just in being able to call itself a playoff team.
South Lakes was hoping to take the next step this fall season. But instead, the Seahawks posted just a 2-8 record and did not qualify for the extended season.
"It was crushing," said South Lakes coach John Ellenberger, of the disappointment of the two-win campaign. "We were hoping to make the playoffs again."
South Lakes' wins this season came over Liberty District opponent McLean and non-district rival Falls Church. The Seahawks struggled with several injuries to key players, hurting their chances of finishing with a better record.
But there were bright spots to the South Lakes season. The team's running game on the offensive side of the football was quite successful as the Seahawks gained over 1,700 yards total on the ground. The team's top running backs were sophomore Ja'Juan Jones (702 yards, 7 touchdowns) and senior Brandon Price (457, 6 TDs).
Jones put together his strong season despite missing four games with an injury. He and Price both earned Second Team All-Liberty District honors.
Price was most effective on sweep type plays around the outside. A third-year varsity player, Price was a receiving threat out of the backfield and a dangerous player in the open field. He holds South Lakes' all-time record for longest touchdown run (99 yards). That occurred when he was a sophomore in a game against Falls Church.
Another talented back who missed lots of time (5 games) due to an injury this season was senior Will Johnson, who ran for 255 yards in the Seahawks' win over Falls Church.
<b>EVEN WITH</b> all the injuries to its skill position players, South Lakes had success running the ball. The prior year, coach Ellenberger's team relied more on the passing game because of the personnel he had that dictated such a game plan. But going into this season, the coach loved the look of his group of running backs. As a result, South Lakes ran the run-oriented "Wing T" attack.
"We had a bunch of real good skill kids," said Ellenberger, of his running backs. "So we decided to put [the Wing T] in. We can run the ball real well. It was our bright spot."
South Lakes also received solid play at quarterback where senior Justin Zeller, a transfer student from Oakton, made the most of his one season with the program. Zeller, a team captain who passed for 431 yards and two touchdowns on the season, emerged as a team leader from the start.
"He was a great leader for us and a great asset for the team," said Ellenberger, of Zeller. "He was great for us, a real good kid who loves to compete."
South Lakes' top defensive players included Quintin Fortes, a senior defensive end, and junior linebacker Josh Anderson, a transfer student from Langley High.
Fortes, who made Honorable Mention All-District, was a speed rusher who caused havoc in opposing teams' backfields.
"He likes to get off the edge [on pass rushing] and is real athletic," said Ellenberger, of Fortes. "He's real athletic and was going up against real good competition [in the district]."
Fortes recently was offered a Div. 2 football scholarship to play at Cowan University (N.C.). He is still in the decision-making process and receiving feelers from other schools.
Anderson earned Second Team honors at linebacker in his first season with the Seahawks.
"He's really, really tough and was a great linebacker for us," said Ellenberger, of Anderson. "He had an excellent year for us and reads [offensive] keys real well."
Also putting together a good season for South Lakes was junior Kevin Ball, a two-way player at tackle.