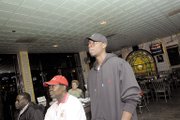 C.J. Vick has spent his entire basketball career fighting through adversity but nothing stung quite like this. With 35-40 people assembled at Bungalow Billiards in Kingstowne last Friday night, including his parents, friends and even his kindergarten teacher, Vick and Co. were anxious to see where and when he'd be picked during the NBA D-League Draft.
But as all 160 slots were filled, the music stopped and Vick was left without a chair.
"It was awful," said Vick, a 6-foot-9 forward/center hybrid who was a three-year starter at Division I Quinnipiac University after graduating from Robert E. Lee High School in 2000. "I felt like the loneliest guy in the world for about 20 minutes because a lot of people came to support me."
Vick signed his NBA D-League contract, offered by Brandon Barnett, the NBA D-League's previous senior coordinator of basketball operations, on July 30, cementing his eligibility for the draft. A D-League contract doesn't ensure a roster spot. It only enters the player into a draft-eligible pool of players.
After the NBA D-League's pre-draft camp, which took place July 27-29 in Suwanee, Ga., Vick was ranked as the 15th-best prospect by Pro Basketball News. If a logical explanation exists for why his stock fell so fast, the Springfield native hasn't heard it.
However, the morning after what Vick likened to a prizefighter suffering a humiliating defeat, all the loneliness from the night before had dissipated. His phone rang four times on Saturday morning, each providing another opportunity to continue a professional basketball career that he had started overseas.
"I don't have time to feel sorry for myself," said Vick, who's mulling offers from teams in Austria, Portugal, Finland and Germany. "When I get to my new team, they're going to expect me to produce. They're not going to expect me to feel sorry for myself."
Vick was one of several talented players on Lee coach Mike Harris' Lancer teams of the late 1990s and early 2000s but never dazzled scouts or opposing coaches with his skills. According to Vick, he was never even a first team All-District pick.
<b>AT QUINNIPIAC,</b> Vick began to find his niche as a shot blocker, rebounder and an agile big man who could run the floor. Though he never earned first team All-Northeast Conference honors, Vick still holds school records for blocks (107) and games played (115).
During his senior season in 2004-05, Vick, who's fourth in school history with a .560 field-goal percentage, connected on 64.9 percent of his field-goal attempts, the second-best such mark in school history.
"He's not going to hit you with anything that's real flashy," Harris said. "If we're going to put a tag on it, I'd say he's more of blue collar guy. He could do a little bit of everything but nothing is really going to jump out at you."
Since graduating from Quinnipiac in 2005, Vick had starred for Sangalhos Desporto Clube in Portugal and Huima of the Finnish Professional League but has been training lately at Lifetime Fitness near his home in Springfield.
Vick plans to sign on with a European team shortly, and he doesn't pretend to understand the inner-workings of professional basketball in the United States.
For his own explanation, it's much simpler: Like the battle he's fought throughout his basketball career, Vick was simply overlooked. It's not something that's going to deter his lifelong dream.
"I've felt kind of marginalized throughout my career and you saw that on Friday night," Vick said. "It seems on paper that I'm a good enough player, but for some reason I've always had this long, arduous road.
"All I need is a chance, and I'll get that chance. It's not lost on the league that I was in that draft pool. I just need to get as good as I can, so when my chance comes I'll be ready."