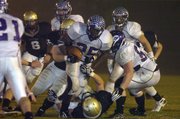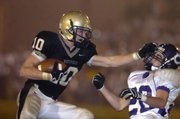 With 45 seconds to play during Friday night's Division 6 semifinal matchup between the Westfield and Chantilly football teams, Bulldog quarterback Danny Fenyak -- facing a second-and-10 situation from the Chargers' 16-yard line -- lofted a pass toward the left corner of the end zone. The pass fell incomplete, clanging ever-so-slowly off the hands of Chantilly linebacker Brian Abatemarco.
On the next play, with Chantilly clinging to a 35-28 lead, Abatemarco atoned for the missed opportunity. As Fenyak threw to sophomore Mack Spees for a trick play, Abatemarco's instincts kicked in. He knew Spees wasn't a regular receiver and started toward the exact same spot.
Spees lofted a pass similar to that of Fenyak's second-down attempt and this time Abatemarco hauled it in. Two obligatory kneel downs later, Chantilly celebrated an upset win over rival Westfield (9-3) that will catapult the Chargers into next week's Northern Region title game.
"I knew right when [Spees] went into the game that it was going to be a double pass," said Abatemarco, who suffered a concussion after making the pick. "This is the best moment of my entire life."
<b>WITH THE WIN</b>, Chantilly improved to 9-3 this season but has still won only two of 10 meetings with the Bulldogs. The other came during the 2006 region championship game, which was also held at Westfield High School.
In next week's region final, Chantilly will travel to undefeated Oakton (12-0) on Saturday afternoon. The Cougars topped West Springfield, 49-43, in the other semifinal matchup and they possess one of the Northern Region's most prolific offenses.
Not that Chantilly won't have the firepower to answer. With the Chargers facing a 20-14 deficit at the break, running back Torrian Pace gave his team the boost it needed. Pace scored from 89 yards out on Chantilly's second play of the third quarter, starting a run to the left only to break four tackles and cut back across the field to the right.
"I just needed a little time," said Pace of the spectacular run. A 5-foot-10, 220-pound senior, Pace carried 34 times for 353 yards and scored all five of the Chargers' touchdowns. On the season, he has totaled 2,455 and 32 touchdowns and has no problem deflecting credit.
"Our offensive line did a great job blocking, and we just never gave up," Pace added. "We talked about never giving up, and if you make a mistake, just keep on going and that's what we did [Friday]."
Pace finished Chantilly's next possession with a 67-yard touchdown run and the Chargers grabbed a 28-20 lead with 3 minutes, 24 seconds left. But on the next play, Fenyak (13 of 21, 241 yards, two touchdowns) hit Cole McInturff (five catches, 92 yards) for a 67-yard touchdown and Westfield tied it at 28.
With 8:07 left in the game, Westfield managed to reach Chantilly's 14-yard line, but when Fenyak threw off of his back foot while looking over the middle, Chantilly senior Michael Fries picked the pass, starting his team at its own 12.
<b>CHANTILLY BEGAN</b> the 13-play, 88-yard drive with a heavy dose of Pace -- four of the first five plays went to him -- but on a 3-yard loss from the Chantilly 34, Pace "tweaked" his ankle. He missed three plays but re-entered after quarterback Roger Strittmatter (six-of-12 passing, 76 yards) hit wide receiver Chris Vaughn (three catches, 23 yards) for 16 yards and a crucial third-down conversion.
Pace showed no ill effects of the minor injury, carrying for 15 yards to pick up a first down on third and 15 while later breaking off a 32-yard run to reach the 2-yard line. And with a little more than two minutes to play, Pace plunged into the end zone for the lead.
"He's a special player, and he makes plays even when we don't block right," Chantilly coach Mike Lalli said. "It's just exciting to see him doing what he's doing right now."
Westfield mounted a valiant effort in a comeback attempt, driving from its own 20-yard line to the Chantilly 16 after Pace's score. Fenyak completed four straight passes on the drive, two to Evan Winfrey (five catches, 111 yards, touchdown), one to McInturff and a 30-yard pass to Jordan Anderson (20 carries, 199 yards, two touchdowns).
But a shot at redemption would ultimately make the difference for Chantilly.
"I told the guys when [Abatemarco] missed it, you only get so many opportunities in this situation and that might've been our play," Lalli said. "I wasn't sure we'd get another one to make an interception, so I was very relieved."