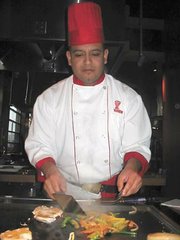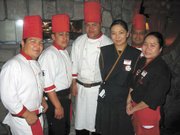 Want to impress your friends with your cooking and cutlery skills this holiday season? The Benihana restaurant at Dulles Town Center offers special "Be the Chef" cooking lessons and meal for four people. The dinner includes steak, shrimp, salad, soup, shrimp appetizer, vegetables, fried rice and green tea, all for $140 plus tax. More guests can be added for $35 per person.
"IF YOU'RE looking for a unique gift, our 'Be the Chef' package is lots of fun and offers great food for the whole family," Gee Dararouksa, regional manager of Benihana, said.
The two-step process includes a training session with a Benihana chef that takes about an hour. Students will learn tabletop hibachi cooking skills, and how to chop, flip and cook food on a Tappanyaki Grill, or steel grill in Japanese. In a predetermined date and time, students will return for the "performance" in front of friends or family.
Benihana will dress you up in an apron and hat, put you behind a cart, and with the chef by your side, students will prepare the meal with the raw ingredients in front of your friends or family. At the end, you'll receive a diploma showing your mastery of the Teppanyaki Grill.
"It's a great gift for a family or friend to experience," Ida Yadamsuren, manager of Benihana Inc. of Dulles, said. "Because basically [the cooking lesson's] free. They're going to be paying for the meal."
And if you need more training, she said they'll provide it.
Jeannie Means, senior director of marketing, Benihana Inc., adds that students can also learn some signature Benihana tricks — like
building a volcano out of onions, with real steam. Then there's flipping shrimp into the chef's hat and flipping salt and pepper shakers. "If they're game and want to learn those, they're welcome to be trained on them," Means said.
WHEN GIVING lessons, chef Alex Alvarez says he emphasizes Japanese cooking skills — how to use the knives to slice the food properly, how to crack eggs using a spatula, as well as how to flip and shake the food. He also explains the different foods, about their preparation specifications, food quality and how to cook the meal.
Originally from Mexico, he says he incorporates jokes in his presentation — using a ketchup bottle with customers and shows them how to make a choo-choo train and a volcano.
Adds Ida, "This package is not only for cooking but entertainment, too."
Chef Alejandro Cordova of Sterling, said Benihana emphasizes less oil and spices in its recipes. He said they use homemade ginger sauce for seafood and vegetables, as well as mustard dipping sauce for steak and chicken. Benihana Dulles is also offering a holiday gift card for $100, which includes a $25 certificate for your next visit. There are 60 Benihana restaurants all over the U.S. with 19 franchise locations.
The Benihana Dulles is located at 21089 Dulles Town Circle. Call 703-421-0888.
More like this story