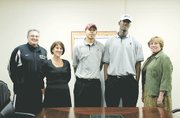 <b>Westfield Football Finishes 9-3</b>
With a 35-28 loss to Chantilly (9-3) last Friday in the Northern Region semifinals, Westfield football coach Tom Verbanic had to make speech that he had the luxury of avoiding last season.
Verbanic, who coached the team last season to a 15-0 record that culminated with the school's second state title, called his players together.
"You don't always finish where you want to finish, but as long as you can look yourself in the eye and make sure that did the best you could then we're all very happy and proud," Verbanic said.
Westfield ended the year with a 9-3 record, suffering losses to Herndon (6-5), Oakton (12-0) and now Chantilly.
Senior running back Jordan Anderson, who transferred from Annandale and had a breakout year, ran for 1,964 yards and 27 touchdowns.
The Bulldogs will lose key offensive linemen Tyler Delph, Tyler Barfield and Jacob Ryder, all of whom contributed to Anderson's success.
"[Anderson] had a great year, and obviously he was a big part of our offense," Verbanic said.
"But I think he'd be the first one to tell you that we also played very well up front on the offensive line and did a lot of things to help him."
Seniors Cole McInturff and Evan Winfrey will also be lost. McInturff caught five passes for 92 yards and a touchdown against Chantilly, while Winfrey totaled five receptions for 111 yards and a score.
<b>Centreville Cheer Places 11th at States</b>
Centreville cheerleading placed 11th at the Virginia AAA state cheerleading championships in Richmond on Saturday, Nov. 8. The closely contested event was won by Stone Bridge while Fairfax placed second. The event was the culmination of a two-year turnaround at Centreville. Centreville qualified for the state championships the previous week by placing third at the Northern Region final. The Wildcats performed a fantastic routine, placing second in the elimination round, and sophomore cheerleaders Melissa Clubb and Mariah Rivera were selected for All-Region cheer honors.
<b>Softball Umpires Wanted</b>
The Northern Virginia Softball Umpires Association is seeking new umpires for the 2009 season. NVSUA is responsible for umpiring softball (fast-pitch and slow-pitch) recreation league games, Virginia High School League-sanctioned games and several area tournaments. Umpires can earn upward of $23 per hour and work a flexible schedule based on your ability and availability during the week and weekends. NVSUA uses a Web-based scheduling program, providing in-depth training which begins in January. For more information, contact Judy Cole at JudyUIC@cox.net or 571-236-5744.
<b>Clifton Native Helps Lady Vols</b>
Even though the Tennessee women's soccer team was knocked out of the NCAA tournament this past weekend, the Lady Volunteers still benefited from the play of junior midfielder Mick Ingram. A Clifton native, Ingram started 18 of 21 games this year, scoring two goals and four assists. In her sophomore year, she started in 21 of 22 games with four goals and seven assists. Ingram also has four game-winning goals. But her best year so far was as a redshirt-freshman where she was second on the team in scoring with seven goals and tied for the lead in assists with six. She was also named to the Soccer Buzz Central Region All-Freshman Team. Ingram spent four years on varsity squad at O'Connell High School, leading the team to three Washington Catholic Athletic Conference championships.
<b>Two Paul VI Panthers Commit</b>
Paul VI boys basketball players Erick Green and Raven Barber signed with Virginia Tech and Mount St. Mary's, respectively, on Nov. 12. Greene was named Northwestern District Player of the Year as a junior and also had offers from James Madison, George Mason and St. Joseph's. The 6-foot-8 Barber had offers from Robert Morris, Quinnipiac and St. Francis (PA).
"I'm proud of both Raven and Erick, and I'm excited for them to get to continue their careers in college at two great programs," Panthers coach Glenn Farello said. "They have worked extremely hard both on the court and in the classroom to have this opportunity. We look forward to them having great senior years here with their Paul VI teammates."
<b>Jefferson Roundup</b>
Four Jefferson volleyball team members have received All-Liberty District recognition. Suzy Hastings was a first team All-District pick, while Meghan Kelly, Angela Liu and Molly Patterson were honorable mention choices. Hastings also received honorable mention All-Northern Region accolades. … Jefferson freshman Sarah Stites placed first in the USA Track and Field Virginia Association Youth Division Competition in Mechanicsville on Nov. 15. Stites completed the 4-kilometer race in 15 minutes, 25 seconds — 22 seconds ahead of the second-place finisher. The win qualifies Stites to compete in the USATF National cross-country championships on Dec. 13.
<i>Raymond Kim contributed to this report.</i>