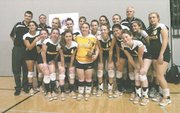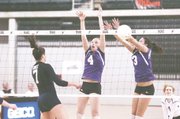 Don't sign the Westfield and Chantilly volleyball teams up just yet for Albemarle football season tickets. With a pair of Virginia AAA state tournament losses to the Patriots, Charlottesville is about the last place either of these two teams would like to be.
Starting on Thursday at Virginia Commonwealth's Siegel Center, Albemarle handed Chantilly (26-2) its second loss of the season, scoring an emotional five-game win (22-25, 20-25, 25-19, 25-20, 13-15) over the Chargers.
Two days later, the Patriots ended Westfield's magical run to the Virginia AAA state title match with a 3-1 win (27-25, 25-16, 19-25, 22-25), producing the first-ever state title for the Northwest Region school.
"Different teams play at different paces and with different styles, but we hadn't seen that style all year," Chantilly coach Charles Ezigbo said of Albemarle. "It caused our blocking to be deficient until we were able to figure it out."
Hardly anyone was able to challenge the Chargers this season. Winning 78 of 88 games, Chantilly hadn't suffered a loss since Aug. 29, reeling off Concorde District and Northern Region titles — both over Westfield — in the process.
But against Albemarle's dominant front line, the Chargers could only adjust and hope, which wasn't necessarily a bad thing.
Chantilly was quickly ousted from last year's state tournament by Frank W. Cox, 3-0. The Chargers couldn't adjust to what the Falcons did offensively, a byproduct of Chantilly's roster that included several sophomores with little or no big-game experience.
But the Chargers' front-line — Samantha Reeves, Allison Williams, Jessica Cooper and Jamie Gorman — was able to adjust this year. It was a move that marks, essentially, the second stage of development for this junior-heavy Chantilly team.
<b>THE WESTFIELD VOLLEYBALL TEAM</b> was more than able to adapt to state-level competition. Despite suffering district and region final losses to Chantilly, the Bulldogs (22-7) simply pressed on. Traveling to Richmond on Tuesday night to face Mills Godwin, Westfield came back with a 3-0 win over the Eagles.
On Thursday, facing yet another region
champion, the Bulldogs earned a 3-1 win (23-25, 25-21, 26-24, 25-22) over Landstown to earn a spot in Saturday's championship match, becoming the second consecutive Northern Region team to do so.
"We're really proud of how far we came this year," said junior outside hitter Emma Stewart, whose five kills and 10 blocks Saturday night served as an informative snapshot into next year. "We're really proud of the fact that we did beat a lot of big-name teams to get here."
After falling behind 2-0, Westfield came out swinging in Game 3. Powered by six kills from sophomore Emily Kohler (team-high 14 total kills), the Bulldogs began to threaten Albemarle.
In the final game, Westfield pulled even at 22 before Albemarle scored three straight points to escape with the win. In addition to Kohler and Stewart, senior Sammy Spees totaled seven kills and 20 digs, while classmate Kat Lanigan dished out 41 assists.
"I'm so proud of how we played, just all of the energy coming from the bench, the screaming and the yelling, and we stayed so positive," said Kohler, a sophomore, who will be one of the team's key returners along with Stewart. "It just wasn't our fate this time, but we came so close. It's a memory that I think everyone is going to be very happy to have."