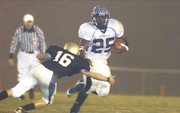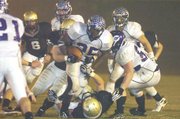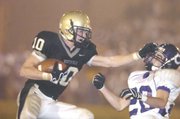 Given a second shot at solving rival Westfield, Chantilly football coach Mike Lalli took full advantage. In a Week 4 home loss to the Bulldogs on Sept. 19, Lalli watched his team struggle to stop Westfield's Jordan Anderson and start a running game of its own.
Anderson carried 17 times for 103 yards and three total touchdowns during his team's 32-7 win, while Chantilly running back Torrian Pace (15 carries, 118 yards) didn't score a touchdown for the first and only time all season.
But during last Friday's Northern Region Division 6 semifinal matchup, played under a fall blend of fog and mist at Westfield High School, Lalli and Co. made the necessary adjustments and escaped with a thrilling 35-28 win.
Pace racked up 353 yards on 34 carries and accounted for all five of the Chargers' touchdowns. While Anderson (20 carries, 199 yards, two touchdowns) was still a factor, Lalli's defense allowed a pair of long touchdown runs but little else.
"We were just going to do our best to keep Jordan from beating us," said Lalli, whose Chargers (9-3) will advance to Saturday afternoon's Northern Region championship game. "He's really worked hard at trying to do that. We committed a lot of guys to stopping the run and we challenged them in the passing game."
In a back-and-forth game that featured two ties and a pair of lead changes, Chantilly rode Pace all the way until the end. And at the end, that passing-game challenge paid off.
<b>THE PIVOTAL</b> and game-sealing play came with 35 seconds remaining and Westfield facing a third-and-10 situation from Chantilly's 16-yard line. Westfield (9-3) had just nearly missed on a pass in the left corner of the end zone — it bounced off Chantilly senior Brian Abatemarco's hands — and elected to counter with a double pass to the same area of the field.
As quarterback Danny Fenyak (13-of-21 passing, 241 yards, two touchdowns) turned to his left and tossed to backup Mack Spees, Abatemarco recognized the play and subsequently spoiled it, atoning for his drop on the previous play.
"This is the best moment of my entire life," Abatemarco, who suffered a concussion on the play, said after the game. "I knew right when [Spees] went into the game that it was going to be a double pass."
"I thought it was worth a shot," Westfield coach Tom Verbanic said. "We were getting press-man coverage, and I just felt like it was a good chance to take at the time."
In the hours that followed Chantilly's second win over Westfield in its past 10 tries, Lalli presumably began to deconstruct film on his team's next opponent — the undefeated and top-seeded Oakton Cougars (12-0). Kickoff is at 1:30 p.m. at Oakton High School.
Oakton defeated West Springfield (8-4) by a score of 49-43 last Friday night, as the Spartans closed the game with 21 straight points but ultimately couldn't close the gap.
<b>THE COUGARS</b> scored a tight 17-15 win over Chantilly in Week 6, a win that the Chargers nearly pulled out by scoring 15 unanswered points in the second half. But during that game, Pace was held to a season-low 73 yards and one touchdown on 21 carries.
"It's always tough to play people twice, but we lost, so I guess there's not much difference," Lalli said. "It's been a tough matchup for us. They're very well coached. They have multiple running backs, quarterback, receivers, so offensively they're very talented and they're very strong on defense."
For a win, Chantilly will have to control rotating quarterbacks Chris Coyer (1,848 total yards, 19 total touchdowns) and Ryan Harris (594 total yards, seven touchdowns), as well as multi-purpose backs Trey Watts (576 rushing yards, 13 touchdowns) and Jonathan Meadows (780 rushing yards, 10 touchdowns).
The Chargers will also have to depend on Pace to look more like the 353-yard, five-touchdown workhorse from Friday as opposed to his pedestrian performance against Oakton on Oct. 3.
But if Chantilly's season-long arc of never giving up and erasing deficits continues, Lalli's team could very well parlay another midseason loss into its second Northern Region title in the past three years.
"That 2006 team had that drive and the feeling of never giving up, and I saw it in my offensive lineman and throughout the players on the sideline [against Westfield]," said Pace, who has totaled 2,455 and 32 touchdowns this season. "That's the main thing that the coaches talk about, playing as a team and never giving up."