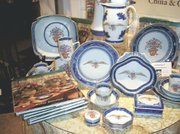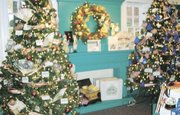 Once again The Shops at Mount Vernon are a one-stop bonanza for any serious shopper this holiday season. There are items for every taste and every pocketbook.
Located at the southern terminus of the George Washington Memorial Parkway, just outside the entrance to Mount Vernon Estate, with free ample parking, The Shops offer gifts that will be cherished by any recipient for years to come. Many items are not just gifts, they offer the opportunity to bring history home for the holidays.
For any history buff one of the most spectacular offerings this season is the illustrated edition of Pulitzer prize winning author David McCullough's book "1776." This hardcover, coffee-table, 256-page book in its own red slip cover contains 140 images and 37 removable replicas of source documents, including a penned letter from George to Martha.
Priced at $65, it is a must have for anyone who owns McCullough's 400-page novel that relates Washington's trials and tribulations prior to crossing the Delaware River that Christmas night, which changed not only American but world history. For those that do not have the New York Times best seller, "1776," it is also available at $32 hardcover and $18 paperback.
Also among The Shops' book offerings are newswoman Cokie Roberts "Founding Mothers" and "Ladies of Liberty." The former is an intimate look at the patriotic women who played a crucial role in forming this new nation. The latter is a colorful blend of biographical information coupled with behind-the-scenes vignettes about the women, including first ladies, who blended their private lives and public roles.
Roberts' most recent treatise, the 481 page "Ladies of Liberty," is available only in hardcover at $26.95. The 359 page "Founding Mothers" is available in both hardcover at $24.95 and paperback at $14.94.
DURING THE RECENT election cycle one of the most contentious issues was that of religion and its place in not only American society but also in American government. Separation of church and state is an ongoing debate from all angles and all inclinations.
Author Peter A. Lillback addresses that debate and attempts to clarify the line between separation of church and state and separation of God and government in his work "Wall of Misconception." It is priced at $19.95.
One of the most unusual gifts at The Shops this year is the Byer's Choice Wooden Advent Calendar. This 15-inch by 18 and one half inch by three and one half inch three dimensional calendar bearing an image of the Mount Vernon Mansion was made exclusively for Mount Vernon. It sells for $85. Twenty-four numbered doors allow for inserting small surprises to mark each day of advent until Christmas morning.
For those who prefer to give something edible, this year there is Mount Vernon's own private label peanuts. They come in their own Mount Vernon picturesque tins containing either roasted salted, honey roasted or peanut squares. Prices range from $2.75 to $6.95 per tin.
For that something special for that someone special there is an array of amber jewelry. Martha Washington's inaugural necklace was made of large pieces of amber which dates back to prehistoric times.
As usual The Shops have an assortment of antique jewelry from necklaces, to bracelets to broaches. Prices range from a few hundred to thousands of dollars. "However, this year we are not expecting large sales in this area given the economic situation," said Julie Mosley, director of retail, Mount Vernon Estate & Gardens.
New to the jewelry line this year is the line of pewter jewelry made in Maryland. Individualized bracelets in this line begin at $19.95. "People are asking for more American made items this year," Mosley said.
In the area of fine china, there is an entire array of Mottahedeh china from the recently introduced "Prosperity" line, which was a favorite of George Washington during his bachelor days, to "The Society of Cincinnati" settings. Prices range from $60 to $385 depending on the design and number of pieces.
There are also porcelain creamware boxes that are designed to resemble the ceiling ornamentations within the various rooms of Mount Vernon Mansion. To complement this offering is the creamware ball designed specifically to hold a special packet of colonial potpourri from Maine. The ball sells for $9.95 and the potpourri for $16.50.
ONE ITEM that is only available at Mount Vernon and would make the perfect keepsake gift is the recently released bottle of Mount Vernon Whiskey from the newly reconstructed distillery adjacent to The Grist Mill. Selling for $25, this limited edition boxed Vatted American Whiskey contains a 50 ML bottle of whiskey as well as a square, engraved shot glass.
On the fun side of the list is a stuffed camel for children known as George Washington Christmas Camel. A real live version will be at the Estate for the holidays. It seems that the father of our country had an attraction to exotic animals and plants. In 1787 he paid 18 shillings for a camel to spend the holidays at Mount Vernon to entertain the Washingtons and their guests.
For adults there is the George Washington bottle stopper that is also a snowball. It sells for $7.50. And to get that bottle opened there is the George Washington cast iron bottle opener for $10.95. Both of these items make perfect stocking stuffers.
And, last but far from least is the annual must gift for all Mount Vernon enthusiasts — the 2008 official Mount Vernon ornament which is priced at $18.95. This year's offering is double sided and celebrates the 150th anniversary of the saving of George Washington's home by the Mount Vernon Ladies' Association.
One side features the Mansion's east front decorated with snowflakes, holly leaves, red berries and bows. The reverse is deep blue, with Washington's cipher, doves, red bows and the inscription, "Mount Vernon - Christmas 2008." It comes in a decorated gift box with an educational enclosure. For a more complete list of what's available visit MountVernon.org.