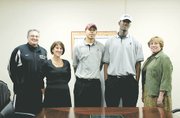 <b>Edison to Face Stone Bridge</b>
For the fourth consecutive year, the Edison football team will square off with Stone Bridge and a Northern Region championship will be at stake. Stone Bridge (12-0) edged out Edison for the Division 5 region title in 2005 and 2007, with Edison (12-0) claiming victory in 2006.
Last year's game, playing in Ashburn, saw Stone Bridge walk away with a 27-14 win, while Edison will look to sustain momentum built with a 47-7 win over Madison last week.
The Eagles have averaged 39.2 points per game this season and have beaten their opponents by an average of 29.1 points per contest. Both numbers seem impressive until compared to those of Stone Bridge: an average of 50.4 points per game on offense and an average margin of victory of 42.5 points.
Senior Stephon Robertson has led Edison this season by with 104 carries for 1,168 yards and 24 touchdowns, an average of 11.2 yards per carry. The Eagles will be looking for their third region title.
Kickoff is scheduled for Friday, Nov. 21 at 7:30 p.m. at Edison High School.
<b>Pearson, Harkness Shine at UMW</b>
Woodson graduate Hannah Pearson and Oakton graduate Lauren Harkness have been named to the 2008 All-Capital Athletic Conference team for their efforts guiding the Mary Washington Eagles to an 8-6-5- record this season, 4-1-3 in CAC play. Pearson, an Annandale native, led Mary Washington with 16 points — seven goals and two assists — from her forward position, while Harkness, a Fairfax native, added one goal and two assists from the back line. Harkness played outside defender for the Eagles, often marking the opponent's top scorer. Pearson, who was a first team All-Conference selection for the second straight year, finished second on the team last season with 14 points.
<b>Softball Umpires Wanted</b>
The Northern Virginia Softball Umpires Association is seeking new umpires for the 2009 season. NVSUA is responsible for umpiring fast-pitch and slow-pitch softball recreation league games, Virginia High School League-sanctioned games and several area tournaments. Umpires can earn upward of $23 per hour and work a flexible schedule based on ability and availability during the week and weekends. NVSUA uses a Web-based scheduling program, providing in-depth training that begins in January. For more, contact Judy Cole at JudyUIC@cox.net or 571-236-5744.
<b>Clifton Native Helps Lady Vols</b>
Even though the Tennessee women's soccer team was knocked out of the NCAA tournament this past weekend, the Lady Volunteers still benefited from the play of junior midfielder Mick Ingram. A Clifton native, Ingram started 18 of 21 games this year, scoring two goals and four assists. In her sophomore year, she started in 21 of 22 games with four goals and seven assists. Ingram also has four game-winning goals. But her best year so far was as a redshirt-freshman where she was second on the team in scoring with seven goals and tied for the lead in assists with six. She was also named to the Soccer Buzz Central Region All-Freshman Team. Ingram spent four years on varsity squad at O'Connell High School, leading the team to three Washington Catholic Athletic Conference championships.
<b>Wahl Signs with Midland Redskins</b>
Bobby Wahl, a junior right-handed pitcher on the West Springfield baseball team, has committed to play this summer for the Midland Redskins, an elite travel baseball team based in Cincinnati, Ohio. For the Spartans this past spring, Wahl went 5-1 with a 1.89 ERA in 40 2/3 innings. He posted 68 strikeouts and only walked 18 batters. At the plate, Wahl hit .419 (13 for 31), with four doubles and six RBIs. The Redskins, with a schedule that includes, among others, trips to Tennessee, New York and South Carolina, compiled a 39-7-3 record this season.
<b>Two Paul VI Panthers Commit</b>
Paul VI boys basketball players Erick Green and Raven Barber signed with Virginia Tech and Mount St. Mary's, respectively, on Nov. 12. Greene was named Northwestern District Player of the Year as a junior and also had offers from James Madison, George Mason and St. Joseph's. The 6-foot-8 Barber had offers from Robert Morris, Quinnipiac and St. Francis (Pa.)
"I'm proud of both Raven and Erick, and I'm excited for them to get to continue their careers in college at two great programs," Panthers coach Glenn Farello said. "They have worked extremely hard both on the court and in the classroom to have this opportunity. We look forward to them having great senior years here with their Paul VI teammates."
<b>Jefferson Roundup</b>
Four Jefferson volleyball team members have received All-Liberty District recognition. Suzy Hastings was a first team All-District pick, while Meghan Kelly, Angela Liu and Molly Patterson were honorable mention choices. Hastings also received honorable mention All-Northern Region accolades. … Jefferson freshman Sarah Stites placed first in the USA Track and Field Virginia Association Youth Division Competition in Mechanicsville on Nov. 15. Stites completed the 4-kilometer race in 15 minutes, 25 seconds — 22 seconds ahead of the second-place finisher. The win qualifies Stites to compete in the USATF National cross-country championships on Dec. 13.
<b>Zimmeck Ends Career at William & Mary</b>
With a 1-0 loss to Duke in the second round of the NCAA women's soccer tournament, William & Mary (15-7-1) parted ways with one of the most talented and successful players in the Tribe's history — W.T. Woodson graduate and Fairfax native Claire Zimmeck. Though she was unable to notch a goal against the Blue Devils, Zimmeck finished with 57 career markers and a total of 126 points. She had 15 goals and 36 points this season. Zimmeck's 126 career points rank her fifth in school history, while her 57 goals are good enough for third all-time. At W.T. Woodson, Zimmeck amassed 57 goals and 37 assists, was a four-time All-District and three-time All-Region selection, and led the Cavaliers to a Virginia AAA state title during her junior season in 2004.
<b>VMI, Allard Make History</b>
As a part of her team's first-ever victory, Fairfax native Briana Allard, a sophomore on the VMI women's swim and dive team, set a school record in the process. Allard won both the 1-meter (132.10) and 3-meter (139.60) diving events, setting a new school record in the 3-meter event. A Robinson graduate, Allard helped the Keydets score a 52-51 victory of New Jersey's Science & Technology University on Nov. 15, the first in three-year history of VMI's program. The first diver in the history of VMI's program, Allard set a school record in the 1-meter diving event (129.90) at Radford University on Nov. 1.
<b>Mason Kicks Off NCAA Tournament</b>
Champions of the Colonial Athletic Association, the George Mason Patriots will open the 2008 NCAA Division I Men's Soccer Tournament with a first-round home match against Pennsylvania on Friday at 7 p.m. George Mason (13-6-2) enters the 48-team tournament on a seven-match winning streak, earning its first-ever CAA title with a 1-0 win over Northeastern on Sunday, Nov. 16. The winner of Friday's match will advance to face Maryland on Tuesday, Nov. 25 at 7 p.m. in College Park. Maryland (18-3) won the Atlantic Coast Conference to earn the ACC's automatic bid and first-round bye. Mason has made nine NCAA tournament appearances, compiling a 4-9 record during that stretch, with the latest appearance coming in 2006.