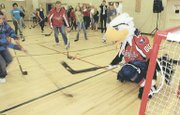 For those not too familiar with the sport of hockey, the pride elicited after losing a tooth is just another of those on-ice conventions that just doesn't make much sense.
So it was all the more amusing when Washington Capitals forward Matt Bradley flashed a wide grin when asked by an H.B. Woodlawn Middle School student last Thursday if he had ever lost any pearly whites during his eight-year professional career.
"No, I haven't lost any yet, " Bradley said, almost disappointed to the crowd of almost 100 students. "But I do have a lot of scars. My grandmother thinks I should get them fixed up, but I like them."
It was part of a question-and-answer session during the first installment of Capitals Hockey School, an initiative started last year in Arlington County schools as a way of exposing students to floor hockey, while teaching proper technique that could eventually translate onto the ice.
Led by Capitals assistant coach Dean Evason, Bradley, defenseman Jeff Schultz, and team mascot Slapshot instructed students about puck handling, passing, and shooting which was followed by a skills competition. The two players then took part in a girls-vs.-boys floor hockey scrimmage to close out the program. The team also donated a new set of street hockey equipment for the school's P.E. program.
<b>THE TWO PLAYERS</b> fielded questions from the inquisitive crowd — ranging from what they eat as a pre-game meal ("a lot of carbs", according to Bradley) to when they first started skating (for Schultz, it was as a four-year-old).
"They're curious and that's what we're here for," said Schultz. "I'm pretty sure these kids weren't all that familiar with hockey so this gives them an opportunity to learn, try out a few things that maybe they wouldn't ordinarily get."
More than a few students in attendance admitted to learning a lot more about the sport than they knew just hours earlier. Even hearing where the players grew up was a shock to some.
"I didn't know they were all from Canada," said seventh-grader Lincoln Swaine Moore of Bradley, an Ottawa native, and Schultz, who hails from Calgary.
<b>LAST YEAR</b>, five other Arlington middle schools received visits from the Capitals Hockey School, and it's a program the school system would like to see continue in the future.
"It introduces the kids to hockey in a much more real way because they meet the players and they see that they are just real people and real guys," said Debbie DeFranco, supervisor of physical education and athletics for Arlington County.
When it was over, Evason couldn't help but flash his own toothy grin as he watched Bradley and Green sign autographs with sweat dripping down their shirts after the split-gender scrimmage, which ended in a 3-3 tie.
"It's just like our NHL guys, they're most excited when they can play a game and when these kids are playing a game, they've got smiles on their faces, they're excited, and that's what it's all about," he said.