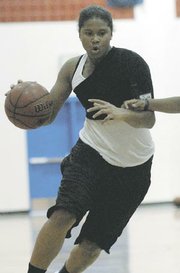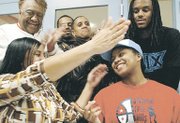 It's not everyday friends and family gather to witness a teenager sign one of life's most important contracts. That's why it made sense that everybody in the T.C. Williams High School cafeteria this past Tuesday night wanted to savor the moment Tierra Ruffin-Pratt signed her national letter of intent to play basketball at North Carolina next season.
Everyone, that is, except for the girl putting her signature on the dotted line.
"Let's cut the cake," Ruffin-Pratt said anxiously of the Carolina blue and white pastry that read "UNC 2009."
After years spent in the spotlight of the Alexandria hoops scene, Ruffin-Pratt thinks it's about time people start noticing the play of everyone else, rather than just focusing on, arguably, the most talented girl's basketball player to come out of this area.
"I really don't need the attention," said Ruffin-Pratt, who is rated by ESPN as the No. 9 girl's basketball player in the class of 2009. "That's how it is on the court. Other teams think it's all about me, talk just about me, but once they realize the team can do other things and help me too, they have to focus on the team and not just me."
<b>IT HAS BEEN TOUGH</b> to ignore Ruffin-Pratt, especially coming off a season where she was named a Parade 1st-team All-American while averaging more than 25 points, 15 rebounds, and seven assists per game, leading the Titans to a 22-1 record.
Her year ended a bit prematurely due to a dislocated shoulder in the Patriot District Finals, and Ruffin-Pratt had to sit and watch her teammates lose their only game, a season-ending loss to Robinson.
It has been this way — with recruiters constantly swooning over her— since Ruffin-Pratt played for the T.C. Williams JV team as an eighth grader, according to her mother, Deneen Pratt. Once that season was over, the house started getting "boxes of letters" from various colleges.
It has created an interesting dynamic between the Ruffin-Pratt that walks the hallways of T.C. Williams and the girl that wows fans and opponents alike on the basketball court.
"She's just Tierra off the court, so she tries not to let the two collide so that she can be just a regular teenager off the court," said Deneen Pratt, who helped her daughter choose North Carolina over Duke, Virginia, and Rutgers among others.
Friends and family describe Ruffin-Pratt as a humble superstar, someone not infatuated with her own statistics. That doesn't mean others aren't, though.
The star of T.C. Williams boy's basketball team, point guard Edward Jenkins, said he sometimes jokes with Ruffin-Pratt in class about putting all her accolades on the back of a sweatshirt, something he did after starting for the Titans state championship team a year ago.
"But she doesn't do any of that," Jenkins said with a laugh. "She doesn't brag or boast about it, she just lets it show on the court."
<b>IT'S A TRAIT</b> that even her coach envies.
"Meeting her, you have no idea she's one of the top prospects in the country," said first-year T.C. Williams coach Cavanaugh Haven, who was an assistant the past two seasons. "It's neat because the underclassmen look at her as a role model, she has natural ability but also puts a lot of time into something she loves."
Ruffin-Pratt, who stands 5-foot-10, doesn't have blinding speed or out of the gym jumping ability. Rather, it's her knack for finding a way to penetrate into the lane and lethal outside shot that make her next to impossible to stop. Her innate court sense and penchant for being in the right place serves her well, anticipating blocked shots and steals on the defensive end.
"It's exciting just to be able to play with someone on that level," said Titans point guard Monica Fikes.
Her shoulder completely healthy these days, Ruffin-Pratt hopes this year will be significantly calmer with her college choice made. Already T.C. Williams' all-time leading scorer, the Carolina-bound superstar wants others to steal her spotlight now.
"I know a lot of people are going to come at me hard," said Ruffin-Pratt. "But I just want to make my team better."