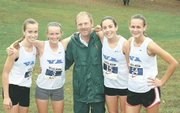 The annual Battle of the Potomac cross country race, pitting the top runners from Virginia and Maryland against one another, was held last weekend and four West Potomac students delivered standout performances, despite the wet conditions.
A week after finishing in the top-10 at the Virginia state cross country meet, junior Julianne Bigler came in sixth place with a time of 20:31. Before the race, Bigler was named captain of the Virginia team.
Junior Kelsey Rosenberg wasn't far behind, finishing with a time of 20:45, good for eighth place overall. Freshman Sarah Jane Underwood was also impressive, clocking a time of 20:50 (12th place) and freshman Dale Lescher rounded out the group of Wolverine girls in the race, finishing in 16th place.
Because of their showings, Bigler and Rosenberg now move onto the Foot Locker South Regionals in Charlotte, which are schedule to take place on Nov. 29.
<b>Successful Raffle Season for Sportsmen</b>
The Fort Hunt Sportsmen's Association has concluded another successful Redskin's Tickets Raffle — the local club's 45th annual raffle. This year's raffle winner is Scott Hilliard, a co-worker of Fort Hunt Sportsman Bo Rollins, who presented Hilliard with a pair of Redskins season tickets.
The Sportsmen would like to thank their generous sponsors. Without the sponsors, the organization would not be able to provide financial support to the numerous youth sports activities in the Fort Hunt area — up to and including West Potomac High School sports teams.
<b>Umpires Needed</b>
The Northern Virginia Softball Umpires Association is seeking new umpires for the 2009 season. The association is responsible for umpiring softball (fast-pitch and slow-pitch) recreation league games, VHSL/High School games and several tournaments in the Northern Virginia area. Umpires can earn $23+ an hour. Flexible schedule based on the individual's ability and availability during the week and weekends. NVSUA uses a Web based scheduling program. We provide in-depth training, which begins in January. Contact Judy Cole at JudyUIC@cox.net or 571-236-5744.