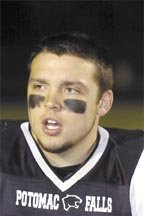 Football fans of the Dulles District could not ask for anything more as two of its own, Broad Run and Potomac Falls High Schools, are set to meet this Friday night for the Region II, Division 4 title game. Kickoff is scheduled for 7:30 p.m., at Broad Run in Ashburn.
Both teams won opening round, semifinals playoff games last Friday night. Broad Run improved to 11-0 with a 47-28 home game postseason triumph over Loudoun County, also a member of the Dulles District. With the loss, Loudoun County saw its season end at 6-5.
Potomac Falls (10-1) also won at home in its playoff affair, defeating James Wood of Winchester, 26-17. This marks the first time in Potomac Falls High history that the Panthers' football team has participated in the postseason.
The lone blemish in Potomac Falls' record this season was a 38-0 loss at Broad Run Oct. 24. The Panthers carried a 7-0 record before the lopsided shutout loss to their local rival.
"I'm hoping we give them a better football game than we did last time," Scott Woodlief, Potomac Falls head coach, said.
Friday's winner will advance to the state AA playoffs next week.
<b>BROAD RUN WAS</b> a fired up team going into the postseason. A year ago, following a 10-0 regular season, the Spartans saw their season end with a first-round Region II playoff loss to Park View. This season, Broad Run wanted nothing more than to get back to the postseason and make amends for last year's disappointing playoff loss.
Once again, Broad Run went 10-0 in the regular season and captured its second straight district crown. But a lot of the luster of the fabulous regular season would have been lost if Broad Run had not won its playoff game over County last week.
"This was our goal, to go further than last year and make a deep run into the playoffs," Michael Burnett, Broad Run coach, said.
Broad Run did what it has done to most opponents on its home field this season — overwhelming its guests early on. The Spartans pretty much put away any hopes the Raiders had of an upset away with three first-quarter touchdowns to go ahead 21-0. Junior running back TJ Peeler (12 carries, 80 yards) had two first quarter scoring runs and senior back Breon Earl had one.
"We got up by three scores so fast," Burnett said.
Loudoun County broke the ice with a touchdown of its own before the first quarter was completed to bring the score to 21-7. But after another touchdown got the Raiders closer, 21-14, in the second quarter, Broad Run broke the game open with three touchdowns before the end of the first half to take a commanding 41-14 lead at halftime. The game was all but over at that point.
Broad Run took a 47-14 lead in the third quarter on a 47-yard touchdown run by junior running back Joey Quigg. County scored a pair of fourth-quarter touchdowns to account for the final score.
All three facets of Broad Run's game — offense, defense and special teams — showed up in big ways in the win over the overmatched Raiders. The Spartans' offense accounted for five touchdowns, including a passing play score of 34 yards from quarterback Chris Jessop to junior wide receiver Adrian Flemming.
But the defense and special teams also contributed touchdowns. David Weaver, a junior, returned a kickoff 70 yards for a touchdown. On the play, Weaver bolted up the middle and outran his pursuers. And, defensively, Mikey Cotton, a senior linebacker, returned an interception 52 yards for a score. Cotton's pick off was the result of a tipped pass by teammate Kenny McAdow, a senior linebacker.
<b>POTOMAC FALLS</b>, playing in its first playoff football game in school history, thrilled its partisan home fans with its hard-earned win over James Wood (8-3) last Friday.
Coach Woodlief said the Panthers talked during the days leading up to the game about not allowing another team end Potomac Falls' season on its own field. And, indeed, the Panthers played with a passion in the win.
"It was a great football game to watch from a fans' standpoint," Woodlief, whose team came from behind late to win, said. "The kids hung in there and played their hearts out. I think [the win] is great for the kids and they are really excited. I'm really excited."
Panther senior kicker Asa Fox converted a 25-yard field goal to give his team a 3-0 lead in the second quarter. James Wood scored a touchdown later in the quarter to go ahead 7-3. And the Colonels had the ball again, looking to extend their lead before Potomac Falls' defense came up with perhaps the play of the game when junior lineman Zachary Duffin picked up a loose football following a sack and returned it 50 yards for a touchdown. Fox's point after kick made the score 10-7 Spartans.
Panther senior linebacker Chris Pelto hit the James Wood quarterback to force the fumble, resulting in Duffin's return.
"I think it was a huge swing," Woodlief said. "They were up 7-3 and moving in at around our 45-yard line. Chris makes a tackle and we end up picking it up and running it in."
Fox nailed a 37-yard field goal in the third quarter to put Potomac Falls ahead 13-7, but James Woods scored the game's next 10 points to go ahead 17-13. The Panthers, however, rallied back with two fourth-quarter touchdowns, both on runs by Michael Baker, to win the game and send their fans into a frenzy.
Throughout much of the game, James Wood's defense was focused on stopping Potomac Falls' running game and Baker (16 carries, 48 yards) in particular. But the Panthers found success in their short passing game as senior quarterback Gregory Woodlief (15 of 28, 223 yards) found his targets. Senior receiver Chad McMichael finished with nine catches for 131 yards and Pelto, a wideout, had five for 75 yards.
But by the fourth quarter, Potomac Falls got its ground game going and Baker came up with touchdown runs of 6 and 1 yards out.
"We took what they gave us," Coach Woodlief said. "I think James Wood came in and said they were going to take the run from us. But we're a running team and a passing team. We countered with a short passing game they gave us and went up and down the field."
<b>WOODLIEF SAID HIS</b> team's seniors helped the Panthers go into the playoff game with a proper mind-set, not overwhelmed by being in the postseason but at the same time not being intimidated either.
"They helped us out a lot with everything going on and being in the playoffs," Woodlief said.
The coach understands Potomac Falls is going up against an outstanding team this Friday night in meeting Broad Run again.
"They've had a great run [the past two years] and have a good program over there and a good senior class," Woodlief said. "We kind of know what they're about now. It's two good football teams. It's pressure on both teams."
Burnett, the Broad Run coach, said his team hopes to do what it has done for all its games in recent years — focus on playing well and not worrying about who is on the other side of the line of scrimmage.
"We feel good," Burnett said, looking forward to Friday night. "Our goal is to go out and execute. We don't want to get caught up in who we're playing and how many times we've played them before."
The coach did say the Spartans' defense will need to hold down Baker, the Panthers' 1,000-yard back.
"The big key for us will be stopping their running game," Burnett said. "Baker is a good, tough runner."