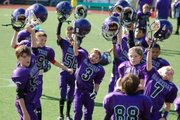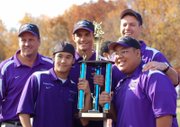 In the sweltering August heat, hundreds of Chantilly Youth Association football players took to area fields with a set of pads and a season-long dream. Players between the ages of seven and 16 were split into the American, Central and National Divisions, with each division further segmented by weight classes between 75 and 150 pounds.
But when all 31 CYA teams started practice, there was one notable absence. The CYA Chargers — a 75-pound National team — were often without a head coach. When one day became two and two days became three, complaints were filed and formal action was taken.
"The head coach couldn't fulfill his commitment and we basically asked him to step down," said assistant CYA commissioner Carlos Osteguin.
With a host of roiled parents and 19 team members devoid of an apparent leader, salvation came from an unlikely source: 18-year-old Vinh Phan, a 2008 Chantilly graduate and a former high school and CYA football player.
Phan, who's a freshman currently taking 16 credits at George Mason and also holds a part-time job as a sales associate at Target, took control of the team two weeks into practice. He had contacted Osteguin a season earlier, asking to serve as an assistant coach and was currently working as the team's offensive coordinator.
Enlisting the help of friends Scott Sayasithsena and Robert Herrity, who became the team's offensive line coach and defensive coordinator, respectively, Phan balanced his job, schoolwork and kept the team together.
"I was kind of worried at first because I saw when the parents reacted to the first coach not showing up," Phan said. "I was scared that if I messed up then they wouldn't trust me. The whole experience at the beginning was pretty scary because I didn't know what I was doing."
<b>APPARENTLY</b> Phan knew more than he let on. He taught the kids nearly 70 plays over the course of the season and Herrity installed several defensive formations. In all, the Chargers totaled 180 points on offense and allowed only 31 points defensively, winning their games by an average of 16.6 points per game and posting five shutouts.
"At first we didn't know how the season was going to go," said 9-year-old Nathan James, a wide receiver/safety. "We thought we were going to do OK, but coach Vinh really did well. I like that our team did good and that we played together as a team."
"It was a lot cooler and funner because instead of talking at me like a lot of coaches do and say, 'OK, do this, do this, do this,' he talked to me," said 9-year-old Justin May, who quarterbacked the Charger squad. "We noticed that he was really dedicated to this, and also we noticed that he did have school and a job and everything and we knew that it was hard for him."
But CYA's success this season wasn't limited to the National Division. On Saturday, Nov. 15, Chantilly American swept all six Fairfax County Youth Football League (75, 85, 95, 110, 125 and 150 pound weight classes) championships at Madison High School.
In the 26-year history of the program, nobody had done it before. In all, CYA won 12 county championships this season and 26 of the organization's 31 teams made the playoffs.
"It's pretty historical for us," said Osteguin, who also serves as a vice chairman for the FCYFL. "We do things right and for the right reasons for the kids. "It's been a tremendous year for the entire program, and I'm just glad to be a part of it.
"I'm happy Vinh had a great time. Hopefully we'll be able to keep him around another year, and I think the kids really benefitted from being on his team."