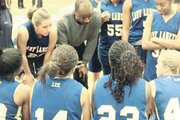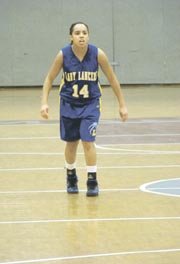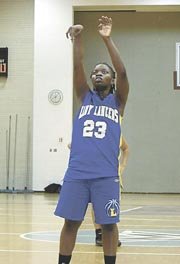 From his new seat at the end of the bench, first-year coach Harold Jackson, hands folded beneath his chin, watched and cringed. It was a situation that has happened more times than he'd like to count, and he could see it was about to happen again.
The Lee girls basketball team lost eight seniors from last year's team and replaced them with eight juniors and one sophomore from the junior varsity squad. When a first-year varsity player looked over at Jackson, smiling and laughing after missing a lay-up, the Lancers' new coach wasn't smiling back.
"Maybe we need to run a few more laps in practice to get my point across, but it's not county ball anymore," Jackson said. "It's for real."
The lackadaisical attitude might've passed at Lee six years ago but not since Rudy Coffield turned the program into a legitimate Northern Region contender has that attitude been tolerated. Last year's group went 25-4, won a Northern Region title and played in a Virginia AAA state quarterfinal game.
After five years at Lee and a 25-year coaching career, Coffield gave up his spot at the end of Lee's bench. Coffield will still work the home games as a school resource officer with Jackson, his top assistant, taking his place on the bench.
Though the Lancers lost key seniors Jay Babineaux and Kashei Hopkins and James Madison-recruit Kristine Mial is sidelined until after Christmas with a leg injury, the Lancers can't afford a slow easement into the ever-competitive Patriot District.
With North Carolina-bound Tierra Ruffin-Pratt leading T.C. Williams and West Springfield a perennial contender, Lee will need to start fast and only improve when Mial, who suffered a stress fracture in her shin while playing soccer this past April, returns near the beginning of 2009.
<b>MIAL HOPES</b> to use the team's holiday tournament as a testing point for her injury. If it responds well, she'll be back in the lineup full-time after that. That's not to say the team shouldn't expect to win without her for the time being.
"We shouldn't wait on Kristine," said junior guard Priscilla Moseh, a starter last winter that averaged eight points per game. "When she gets back, we'll be a lot better. But if we just attack and get the season started, we'll be better."
Moseh will be counted on to lead a guard-heavy group, receiving help from her twin sister Patricia and classmate Jackie Williams, who averaged nine points per game last season.
But neither Williams nor the sisters Moseh are accustomed to scoring in the paint. That's where Mial fit. She averaged 16 points and 11 rebounds per contest last season and poured in a game-high 22 in a 66-40 win over Woodson to claim the girls basketball program's first-ever region title.
"It's hard. I'm not one to really watch," Mial said of the missed time. "It's frustrating. But then again, it's not as bad as I thought it was going to be because our seniors have shown a lot of improvement. But I can't wait to come back.
"I've been trying to help my teammates from the bench and point out what's going on so they get more of an understanding of the game."
Mial's coaching may become an asset later this season. In those 29 games last season, Lee beat its opponents by an average of 22.9 points per game. But with the key losses, Jackson knows that his team will play in several close games this season and must be ready for late-game ball handling, clock management and shot selection.
"We're going to have a lot of close games, so we're going to have to learn how to take care of the ball," Jackson said. "We're pretty good on the perimeter with Priscilla and Jackie. They're the ones that are getting mad and saying some things that they shouldn't say sometimes.
"They're into it. I have to get [the underclassmen] more into it."